renovuo COMPOSTABLE STRAWS ENVIRONMENTAL BENEFITS
Utilizing Natural Sugarcane Residue
renouvo maximizes the use of leftover sugarcane residue from juice extraction to produce compostable straws. This not only ensures the safety of our compostable straws but also helps reduce waste generated by food factories. At the same time, it can reduce CO2 emissions associated with raw materials.
Design for Home and Industrial Composting
Considering the complete product lifecycle, renouvo manufactures compostable straws from biomass materials, replacing plastic. This ensures that after use, our compostable straws can breaking down at ambient temperatures and effectively combating the environmental issues associated with plastic waste.
Embracing the Net-Zero Philosophy
We craft each compostable straw using eco-friendly methods, adhering to strict ISO 14067 standards for evaluating product carbon emissions. This has led to our certification with the BSI Carbon Label, showcasing a reduction in carbon emissions of over 15% when compared to traditional plastic straws.
COMPOSTABLE STRAWS FEATURES
We aspire for our compostable straws to naturally decompose in the earth, much like leaves, after consumer use. Fortunately, Renouvo has over two decades of expertise in plant fiber development, enabling us to genuinely craft low-carbon compostable straws free from any plastic or harmful substances.

PP, PLA, BPA, SVHC Free
Factory Audit Certified
Soggy & PFAS-Free, Unlike Paper Straws
Home & Industrial Compostable
Product Carbon Footprint Verified
COMPOSTABLE STRAWS TEST & CERTIFICATIONS
COMPOSTABLE STRAWS ORDER INFO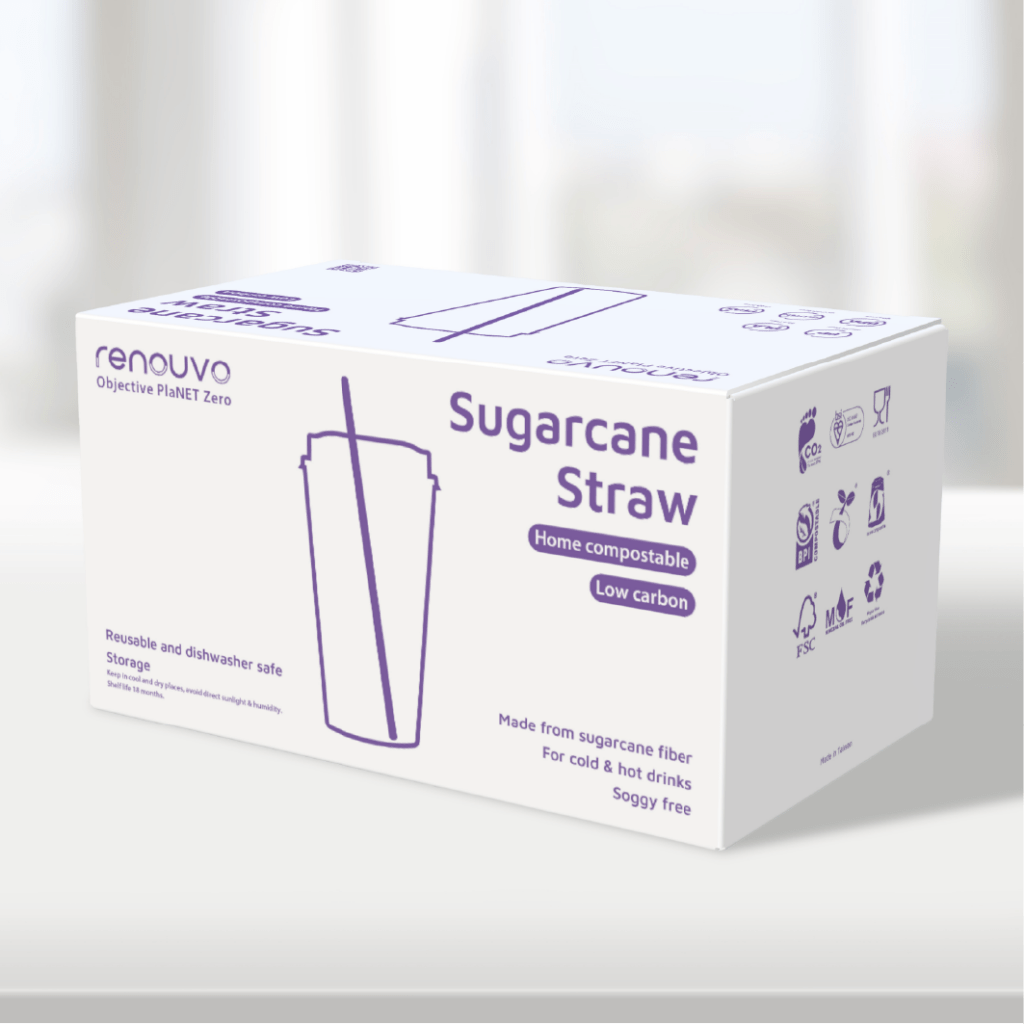 renouvo offers sustainable compostable straws to ESG-conscious restaurants, coffee shops, and wholesalers. Our straws have a minimum order quantity of 300,000 (500,000 for cocktail straws) and require 45-60 business days for the meticulous preparation of high-quality compostable straws. We can also accommodate your international shipping needs.
MOQ 300,000 PCS
FSC and MOF Certified Sustainable Packaging
LEAD TIME 45-60 WORKING DAYS
MADE IN TAIWAN
COMPOSTABLE STRAWS SUGGESTED USE
COLD & WARM DRINK FRIENDLY
IS THE COMPOSTABLE STRAWS RIGHT FOR ME?
Whether you're a sustainability enthusiast, seeking added convenience in your life, or require a product that complies with government regulations, renouvo's compostable straws are an ideal choice. Our straws adhere to SDG12, promoting responsible production and consumption, embody circular economy principles, prioritize hygiene, resist softening, and obtained compostable certifications recognized in multiple countries, including BPI, TUV, ABA, and DIN CERTCO. With users in over 20 countries, including France, Vietnam, Australia, the Philippines, Japan, Thailand, the United States, Hong Kong, the United Kingdom, Malaysia, Canada, Switzerland, the Netherlands, South Korea, Finland, Italy, New Zealand, Singapore, Sweden, and Germany… Our straws cater to your every vision and requirement for compostable straws.
HOW ARE COMPOSTABLE SUGARCANE STRAWS DIFFERENT FROM PAPER STRAWS?
Paper straws have three major drawbacks: they may require logging forests for raw materials, their production consumes significant water resources and involves chemical agents for pulping and bleaching, and during use, they may soften or, even worse, not soften – indicating a potential presence of PFAS. renouvo's patented technology perfectly addresses these issues, providing an environmentally friendly, safe, hygienic, and non-softening compostable straws from raw material to production.
CAN YOU PROVIDE COMPOSTABLE STRAWS SAMPLES, AND WHAT'T THE COST?
Certainly! We can ship samples of our compostable straws to your designated address for your personal evaluation. For more details, sample delivery, and pricing information, please visit our contact page and provide your contact information along with your requirements. renouvo's dedicated international sales team is ready to assist you.
COMPOSTABLE STRAWS  RELATED ARTICLE