The linear economy has been the main business development model for human beings. In the linear economy, raw materials are extracted from the natural environment, processed into products in factories, sold to consumers and then discarded after use. This model causes environmental pollution and depletion of the earth's resources. Most of the raw materials of biodegradable products are renewable and can be returned to the soil after use through the biomass cycle. Compared to plastic, metals and other traditional materials, they are more environmentally friendly and have become the new solution of a circular economy.
This article will introduce a variety of common biodegradable materials and name 15 biodegradable products to help readers learn the current state and the future trend of biodegradable materials. Let's start from biodegradable materials and move towards an environmentally sustainable future.
What Does Biodegradable Mean?
Biodegradable is a common adjective to describe materials. Biodegradable material means that it can be naturally decomposed by microorganisms in the environment and converted into carbon dioxide, water and nutrients in the general environment. These substances are harmless to the environment and can be reused by plants for growth. Therefore, the use of biodegradable materials is one of the ways to achieve a circular economy.
What are Biodegradable Materials?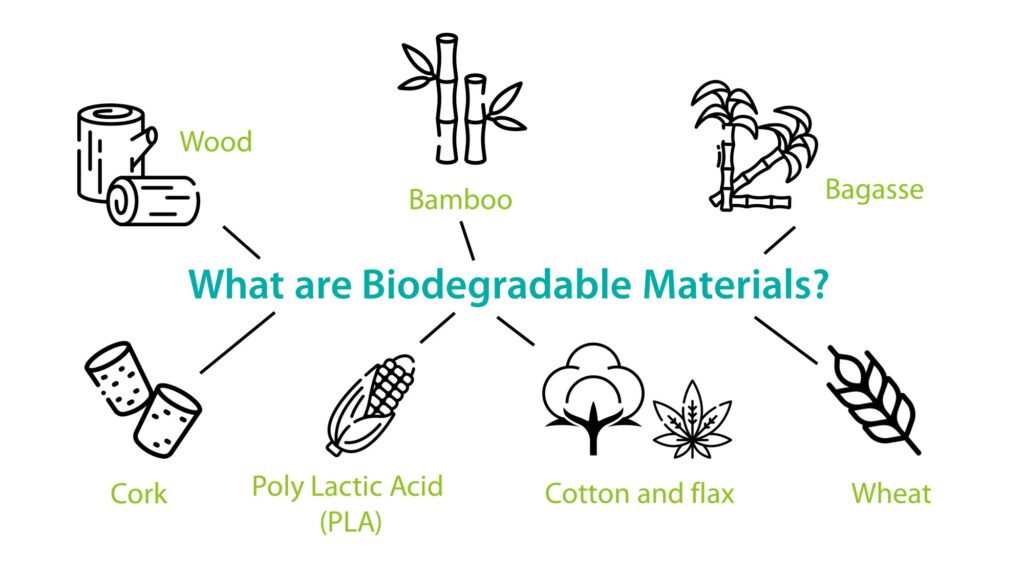 Wood
Wood comes from various trees in the forests. Common tree species such as pine, fir, oak and beech can be widely used for construction, furniture, fuel and papermaking. Because trees convert carbon dioxide into wood while growing, if we plant and cut trees in a sustainable way, it can help mitigate climate change. The most well-known international forest certificate standard is the Forest Stewardship Council® (FSC®).
Bamboo
Bamboo is the tallest herb. It is tough and grows fast. It is a common material used for sacrificial paper and food in Southeast Asia. In other regions it's commonly used in construction and furniture. Nowadays, because of its characteristic fast growth, it has replaced plastic and wood to make environmentally-friendly products.
Bagasse
Sugarcane accounts for more than 70% of sugar demand around the world. It mainly grows in the tropics, and it's a C4 grass plant which absorbs carbon dioxide in an efficient way. Bagasse, leftover after sugarcane juicing, is rich in fiber and water. In the past, it was used for boiler fuel in sugar factories, and now it can be made into bio- alcohol after fermentation. Some manufactures have also developed technology to make food containers out of bagasse instead of plastic.
Please refer to the article "What is Sugarcane Fiber? Benefits of Sugarcane Fiber in Food Packaging" for more applications and features of bagasse.
Cork
Cork is made out of the skin of cork oak trees, which can be harvested every nine years. As it isn't necessary to cut down the trees, it actually helps human beings to protect forests and their ecosystems. Cork is lightweight, waterproof, thermally- insulating, soundproof and shockproof and it's widely used in wine corks, construction and daily necessities.
Poly Lactic Acid
Poly lactic acid (PLA) is a mature biodegradable plastic, which is fermented and polymerized by plant starch. It is often used in medical supplies implanted in human bodies, 3D printing, and to replace plastic straws, cups and other disposable packaging.
Cotton and flax
Cotton and flax are traditional weaving materials. In the past, cotton was criticized for labor exploitation, consumption of large amounts of water resources and use of chemicals during production. Also, it has been replaced by artificial fibers due to cost and functional considerations. However, in recent years, with organic fertilizers and variety improvements, organic cotton has greatly improved the above problems and become a more environmentally-friendly weaving material together with flax.
Wheat
Wheat is one of the main food crops for human beings. After harvesting, the remaining straw can be used as natural straws after being cut and sterilized. It can be also compressed and synthesized into materials for construction, packaging, daily necessities and wood composites. Moreover, they can be made into biomass fuel for power generation.
The Truth About Biodegradeble Plastics: Is It Really Good for The Environment?
PLA is a biodegradable plastic polymerized from plant starch, mainly using corn or potato starch as the raw materials. Its appearance and strength are similar to traditional plastic and it's a mature technology of biodegradable plastic. Since the raw materials are pure natural plant materials that are sustainable and renewable, PLA can be composted and returned to the earth when it is disposed, which completes the circular economy of nature. However, because of its chemical structure, PLA cannot decompose in the general environment alone. Instead, it requires an industrial composting environment with temperatures up to 58°C, sufficient oxygen, moisture and microorganisms for it to decompose quickly. If there is no industrial compost recycling system in the area where it is used, it may end up in incinerators or landfill sites together with general garbage, reducing the benefits of being decomposable. Furthermore, it might be mixed with traditional plastics, polluting other petrochemical plastics that could have been recycled, resulting in more waste of resources.
15 Biodegradable Products You Should Know and Start Using!
Biodegradable bags
Many plastic bags such as shopping bags, garbage bags and food bags are designed for single use, and the astonishing consumption amount leads to massive waste. Instead, paper bags and bagasse bags can be decomposed after use. However, note that biodegradable bags can't be used for general garbage nor recycled. They are not suitable for landfilling and cannot be recycled with other traditional plastics. They can only be used to hold kitchen waste.
Advantages:
Wood and sugarcane are both sustainable raw materials.
The light and thin characteristics of bags accelerates decomposition.
They can be easily concentrated and composted after the contents are taken out.
They can be composted and decomposed along with kitchen waste.
Disadvantages:
Note whether there is an additional waterproof and oilproof polyethylene chemical coating which is undegradable on the surface of paper bags.
They can't be used for general garbage and recycling bags.
Biodegradable diapers
As human excrement is not suitable for composting directly, biodegradable diapers need to have their own recycling system to separate the biodegradable and non-biodegradable parts. Currently, manufacturers claiming that diapers are biodegradable usually use plant fiber as the main raw material without adding additional chemical additives such as chlorine, latex, alcohol and lotion.
Advantages:
They are safer for babies.
Use of plastic can be reduced.
Disadvantages:
They have to be recycled in a specific process instead of composting directly.
Biodegradable mulching film
Mulching film provides shading for soil from sunlight, retains the temperature and moisture and suppresses weeds. It is a common equipment used in modern agriculture. In the use of plastic mulching films, due to the physical erosion of sunlight and rain, microplastics are released that pollute the soil. Mulching film cannot be recycled easily after use because of the attached soil, and is often discarded randomly or burned in the open.
Biodegradable mulching film made from cellulose, starch or polyester can be decomposed naturally after a certain period of time. If the raw materials are mixed with bagasse, corn starch, rice straw, chicken feathers and so on, they can further provide additional nutrition, carbon storage and microbial activity to increase crop harvest.
Advantages:
It takes no additional labor force to recycle biodegradable mulching film.
If the raw material is agricultural waste, it reduces the waste amount and material cost.
Suitable substances can increase the fertility of soil.
Disadvantages:
The formula must be adjusted subject to the environment to make sure the mulching film does not decompose too early or too late.
Bagasse straws
Plastic straws are the killers of marine ecology. They easily enter the noses and digestive systems of sea turtles, seagulls and fish, which causes injury and even death to these marine creatures. Therefore, humans have developed many different kinds of biodegradable straws as substitutes, such as paper straws, PLA straws, bagasse straws and wheat straws. As bagasse straws use agricultural waste as raw materials and can be composted at home after use, it's a better environmentally-friendly choice. It's suggested to use bagasse straws to replace single-use plastic straws. For more information about the different types of materials of biodegradable straws, please refer to this article: What are Biodegradable Straws Made of Biodegradable Materials and the Benefits.
Advantages:
The usage is similar to that of plastic straws, no smell and no softening.
Agricultural waste is used as raw materials which helps to reduce the waste amount.
It can be certified for home composting and buried in the backyard after use.
Disadvantages:
They have a shelf life and get brittle if they are not used within a year and a half.
Biodegradable sanitary pads or tampons
Tampons made of pure cotton without plastic protective layer and artificial silk can be directly composted after use. Because superabsorbent and plastic leak-proof layers are required for sanitary pads, only a few manufacturers use cotton, cellulose and biodegradable plastic to replace these components while avoiding the use of chemical dyes, coloring and bleach, which allows sanitary pads to be composted after use.
Advantages:
The raw materials are renewable.
They can safely contact private parts.
Disadvantages:
They have worse water absorbance efficiency.
They lack colorfulness and fragrance.
Bamboo straws
Bamboo straws are reusable. They are made of smaller bamboo, such as arrow bamboo, which is cut and sterilized. The straws have thick and strong walls. Please note they need drying after cleaning to prevent natural plants from molding.
Advantages:
They are made of raw plants and the processing is simpler.
They are reusable.
When unusable, they can be decomposed naturally like ordinary bamboo.
Disadvantages:
It's easy to get mold, and a plastic brush may be needed for cleaning.
As they are thicker, they take longer to decompose.
Bagasse utensils
Plastic utensils, including knives, forks, spoons, trays and bowls, has direct contact with food and faces the challenges of high temperatures and oil. Unfortunately, due to the lipophilicity of plastic, toxic chemicals, bisphenol A and chlorine may be melted out and threaten human health. Bagasse utensils are made of bagasse which is strong, oil-resistant and elastic. It can be used many times according to demand. It is made of agricultural waste and is characterized by low carbon and renewable raw materials.
There are no concerns about harmful substances for plant raw materials.
Advantages:
The raw material is renewable and low-carbon.
It is safe without any concerns.
It is reusable.
Disadvantages:
Cork stoppers
Cork stoppers were used by human beings as wine bottle stoppers in the middle of the 17th century, and were subsequently replaced by screw tops. Most of the screw tops are designed to be made of metal combined with plastic and they are also difficult to be recycled due to the small size. Cork stoppers are made of the bark of cork oak trees. It doesn't require cutting down trees which makes it a sustainable resource that is biodegradable at the same time. By using retro cork stoppers which are linked to the image of traditional high-quality wines, it not only makes opening wine bottles more romantic but also contributes to environmental protection.
Advantages:
It is not necessary to cut down trees to get the materials and CO2 can be stored.
Oak forests can be saved.
They are natural sealing materials containing no harmful chemicals.
Disadvantages:
The sealing effect is worse than that of plastic and the wines go bad easily.
When opening wine bottles, cork fragments may fall into bottles to affect the flavor of the wine.
Biodegradable fishing nets
Plastic fishing nets will continue to release microplastics, and if they are dropped in the sea, marine creatures will be trapped to death beyond the control of humans. This is called "ghost fishing." Biodegradable fishing nets won't release microplastics and they can be decomposed in the sea if accidentally lost, reducing the impact on the ecosystem.
Advantages:
They don't release microplastics and are less harmful to marine creatures.
Disadvantages:
Currently the technology is not mature yet. Though the fishing nets are biodegradable, we need to avoid accidental breakage causing more cases of lost nets.
Plain color clothes made of pure cotton or linen
Cotton, flax and jute are natural biodegradable clothing materials and can be decomposed naturally within a few months. They are more environmentally friendly than emerging materials such as polyester fiber. However, note that as long as they are mixed with petrochemical fiber, chemically dyed or printed with plastic prints, they will release toxic substances during the decomposition process, or they cannot be decomposed at all. Therefore, before purchasing, make sure that the clothes are made of pure plant fibers and no chemical additives are added.
Advantages:
Worn-out clothes can be buried in the backyard for composting.
Disadvantages:
Planting cotton requires a large amount of water resources.
They are contaminated easily by plastic and chemicals which makes it impossible to decompose safely.
Bamboo or linen baskets
Non-woven shopping bags often give an impression of being environmentally friendly. In fact, however, most non-woven fabrics contain petrochemical plastic such as polypropylene (PP) or polyethylene (PE). Composite materials are low-grade plastic which can't be decomposed and are difficult to be recycled. On the other hand, bamboo or linen have tough fibers and can be woven into light and durable baskets to replace non-woven shopping bags.
Advantages:
They have a strong load-bearing capacity.
They are good-looking and unique.
Disadvantages:
They are difficult to carry.
Bamboo or wooden furniture
Nowadays, most furniture is a composite product of plastic and metal. Due to the use of multiple materials and the large size, furniture is difficult to recycle unless properly disassembled before disposal. Furniture made of wood or bamboo can show a more natural and calm feeling. If no chemical substances are added, it can be naturally decomposed after use in the environment just like a tree branch.
Advantages:
The raw materials are renewable.
They are more durable than most plastic furniture.
Disadvantages:
If an additional coating is used, they are harder to decompose and the coating may be harmful for human beings.
It is necessary to make sure whether the raw materials come from non- deforestation forests.
They are heavier.
Bagasse reusable cups
Using reusable eco-friendly cups for coffee, juice and other beverages helps reduce various disposable plastic waste which is thrown away after use. In addition to the traditionally common stainless steel and plastic materials, some manufacturers now also provide environmentally-friendly cups made of plant fiber, which can be reused for about one year and buried in the soil to achieve the circular economy.
Advantages:
The processing releases lower carbon than steel and plastic and the raw materials are sustainable.
No coating or other harmful chemicals are involved.
Disadvantages:
They can be only used for one year and have to be replaced continuously.
Paper egg cartons
Due to hygiene, egg cartons are often discarded after single use. PET egg cartons can be recycled but it's downcycling with a limitation on use that eventually causes waste. Paper egg cartons are biodegradable and can be composted along with eggshells through home composting.
Advantages:
The raw materials are renewable.
They are compostable after use.
Disadvantages:
The production consumes a large amount of water resources.
It is necessary to make sure whether the raw materials come from non- deforestation forests.
Biodegradable flowerpots
Biodegradable flowerpots are made of natural materials such as cow dung, recycled paper pulp, coconut shells and bagasse. They are suitable for plant transplantation, flower material retailing, and so on. After plants are buried in the soil together with the flowerpots, biodegradable flowerpots will start to decompose and provide the soil with nutrients at the same time.
Advantages:
They help reduce unnecessary waste.
It is not necessary to remove plants from the original pots when transplanting.
They provide nutrients to the soil.
Disadvantages:
They are not suitable for long-term use as it will decompose in a few months.
Eco-Friendly Knowledge Helps Us to Sustainable Living
Biodegradable products are booming nowadays. There are many alternatives for the daily necessities we take for granted that are more eco-friendly. In addition, there are new solutions for environmental protection in fields we can't see, such as agriculture and fishing. Learning more about environmental protection enables us to do our best as consumers. Choose products designed for sustainability and make sure the concepts of the sustainable design of these products can be properly utilized within the current recycling system. We have to reject manufacturers that provide low- priced products causing pollution to the environment. Only by working together from corporations to consumers can we truly realize a sustainable life.