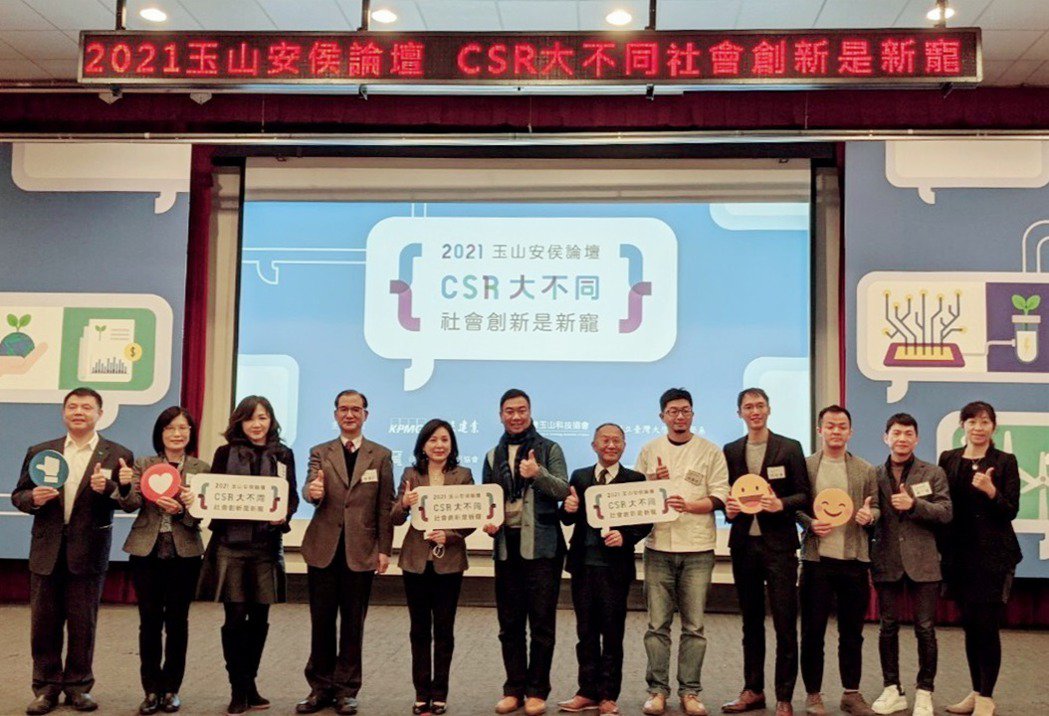 2021 Monte Jade Taiwan and KPMG in Taiwan Forum: "CSR is very different, social innovation is the new favorite." was held yesterday (12th). Organized by Monte Jade Science and Technology Association of Taiwan, KPMG in Taiwan Co., Ltd., and the Department of Accounting of National Taiwan University, co-organized by the Taiwan Listed Companies Association. Photo / KPMG in Taiwan

AUO Director of Sustainability Hsiu-Hwa Ku, Taiwan Mobile Co., Ltd Sustainability and Brand Development Deputy General Manager Iris Liu, Cathay Holding Public Relations Associate Changchao Liao, and Social Innovation Organization Beehive Data Technology CEO Lin Taiyou and Mr. Watt jointly Founder Xucheng Fan, Mediot Co. Ltd. Xie Yi, Ju Tian Cleantech founder Chien-chung Huang, KPMG in Taiwan Managing Director Zhengzhong Huang and other experts on corporate sustainability and representatives of social innovation organizations shared their views. The global environmental risks are changing rapidly nowadays, and the state of New Reality in the COVID-19 epidemic is fluctuating. Under this circumstance, companies should adjust their strategies on CSR (Corporate Social Responsibility) and ESG (Environment, Social and Governance) issues constantly, and actively deploy cooperation with social innovation organizations to respond to society's expectations for companies focusing on environmental protection and sustainable development issues.
Jilong Yu, Chairman of KPMG in Taiwan said that according to the results of the "The KPMG Survey of Sustainability Reporting", more than 60% of corporate CEOs in the world (63%) and the Asia-Pacific region (66%) said that under the circumstance the global environment is full of variables. They will pay more attention to corporate social responsibility and ESG issues. More than half (52%) of CEOs in Taiwan believe that the epidemic has further highlighted the importance of ESG issues.
It is a major issue faced by many enterprises to break through the predicament and create a new sustainable business in the new year. In this case, KPMG is also promoting the KPMG IMPACT program globally. Focusing on the fields of ESG, economic and social development, sustainable finance, climate change, impact measurement, and transparency assurance through professional services, KPMG supports clients to achieve the United Nations Sustainable Development Goals (SDGs) and to create more positive value for the world and the community.
Zhengzhong Huang, managing director of KPMG in Taiwan, analyzed KPMG's major observations on the epidemic with the topic "ESG-driven social innovation under the COVID-19 epidemic". He said that, after the outbreak of the global epidemic, the results showed that countries and companies only focused on the economy were the most seriously injured. He mentioned that global risks nowadays represent existing business models that do not fully reflect the internalization of external costs. If an enterprise cannot change quickly when an unsustainable crisis comes, the following "retribution" will appear in the future, and social innovation is the soft and hard power that lights the way for the earth to live.

Faced with the uncertain and capricious "New Reality", the industry is bound to face this temporary "ESG" test. To promote the differentiation of corporate ESG results, the greatest potential opportunities and skills lie in how to make good use of cooperating with social innovation enterprises that have environmental (E) and social (S) issues as their entrepreneurial aspirations to jointly create positive and share social influence. The strategy of fighting alone is not long-term, and how to integrate the needs and reconciliation parties faster is a doorway that enterprises must master in the new reality. Whether they can pass the test safely, the fittest survives, and the unwell have to leave the stage sadly.
According to the statistics of the Social Impact Taiwan of the Small and Medium Enterprises Administration, Ministry of Economic Affairs, there are more than 500 social innovation organizations in Taiwan that have registered to provide social innovation solutions on different topics so far. In this forum, social innovation teams such as "BeeHive Data" who are concerned about scientific agriculture, "Mr. Watt" for green electricity sales, "Mediot Co. Ltd. " for digital health, and "Ju Tian Cleatech" for a circular economy are also invited to share how their social entrepreneurship is strategically integrated with corporate ESG issues, and jointly promote society's prosperity and create positive social influence.