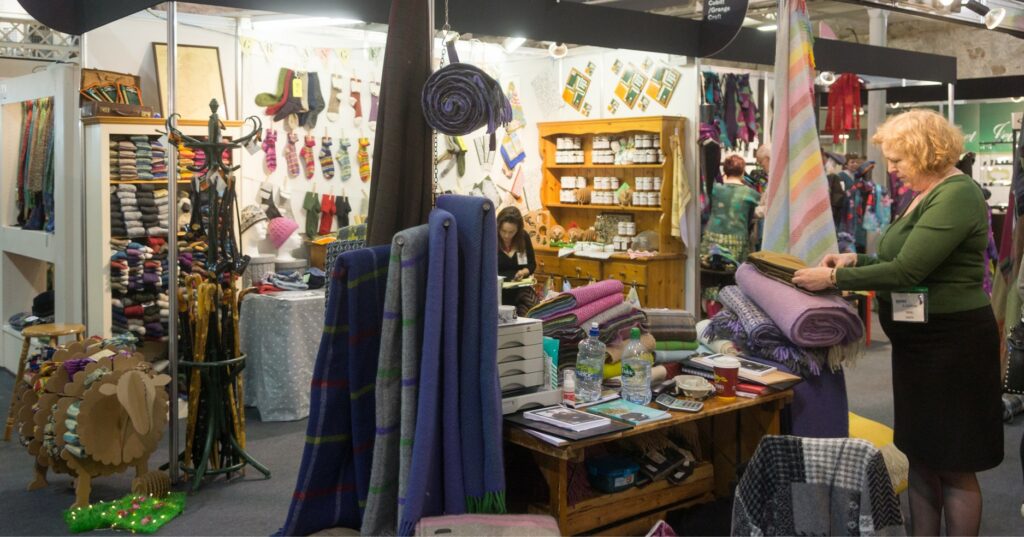 Heat waves in summer, frigid temperatures in winter, extreme rainfall, and environmental pollution are happening all around us, and people's considerations for product purchases have shifted from price-performance ratio to environmental protection. Meanwhile, many manufacturers have launched diverse eco-friendly products in a bid to realize SDG 12 Responsible Consumption and Production with consumers. This article will explain how we can live more sustainably and introduce various eco-friendly products, as well as the principles for selecting them.
How to live more sustainably?
The Earth's resources are limited and cannot accommodate everyone's needs, thus the security of this generation and the next generation depends on leading a more sustainable lifestyle. The essence of sustainable living comes from the three major pillars of sustainable development: environment, society, and economy. While sustaining people's needs, we must also consider all aspects of sustainable development. The easiest first step to sustainable living is choosing eco-friendly products to minimize the destruction of and our reliance on natural resources in everyday life.
What are eco-friendly/sustainable products?
Eco-friendly products take the life cycle assessment (LCA) into consideration to satisfy people's needs at a minimum cost. Specific measures include using renewable materials and low-pollution and energy consumption production processes, simple storage methods, short-distance or low-carbon transportation, high durability, recycling and reproduction, and compostability. These are the key to supporting sustainable production and consumption. Examples include products made of natural materials, energy-saving products, modular products, local products, and fair trade products. Although eco-friendly products may be more expensive than conventional products, they are more cost-effective choices if we consider factors such as health, safety, durability, ease of use, and external costs on the environment.
Thirty eco-friendly products to help you live more sustainably without effort
1. renouvo Compostable Sugarcane Straws – The best sustainable straws
Straws help people to enjoy beverages more safely and hygienically, especially in scenarios such as outdoors, sports, or driving. renouvo's compostable sugarcane straws use bagasse, an agricultural waste as the raw material. They are TÜV-certified to be home compostable after use, and each straw generates only 3.93g of carbon emissions according to BSI audits, making it a low-carbon and compostable eco-friendly product.
2. Bee's Wrap Beeswax Food Wraps – The best reusable food wrap
Bee's Wrap Beeswax Food Wraps are made of natural cotton, beeswax, vegetable oil, and resin. It can replace cling film to extend the shelf life of food and decrease food waste. After use, it can be composted or used as a natural fire starter.
3. Isshah Biodegradable Eco-Friendly Natural Bamboo Charcoal Toothbrushes – The best sustainable toothbrush
The toothbrush is a daily consumable item for most people. Isshah Biodegradable Eco-Friendly Natural Bamboo Charcoal Toothbrushes use fast-regenerating bamboo instead of plastic, and the packaging is made of Kraft paper, which can be biodegraded or recycled after use.
4. 2ct Low Density Natural Loofah Sponge – The best natural cleaning product
2ct Low Density Natural Loofah Sponge is made from dried loofah that has been cut and deseeded. The outstanding product can be used as a bath sponge or dish sponge. Since it is made of natural plants, it can be composted after use, making it an eco-friendly and versatile cleaning product.
5. Freestyle Diapers Tree Free Diapers – The best plastic-free diaper
Freestyle Diapers Tree Free Diapers use bamboo fibers instead of gel as their absorbent layer, which is soft and plastic-free. At the same time, FSC-certified paper is used to ensure a sustainable source of wood.
6. Wild Pact 7.5" Cork Flower Pot with Drainage – The best perennial potted plant
Growing potted plants at home can improve air quality and foster a good mood. Wild Pact's planters are made of cork, a sustainable material obtained from the bark of cork oak trees. There is no need to cut down the trees during the harvesting process. Additionally, the planters are lightweight, water-resistant, and durable, making them an eco-friendly and high-quality product.
7. renouvo Compostable Sugarcane Tableware – The best compostable tableware
renouvo Compostable Sugarcane Tableware is oil and heat-resistant and made of bagasse, a sustainable material. According to BSI audits, each piece of tableware only generates 14.67g of carbon emissions, and it can be composted directly after use without cleaning, thereby reducing water consumption and GHG emissions.
8. PrintWorks Elementree Sustainable Multipurpose Paper – The best sustainable printing paper
PrintWorks Elementree Sustainable Multipurpose Paper is made of waste woodchips from sawmills. Moreover, it is FSC-certified to ensure the sustainability of the source of raw materials, and it lowers its carbon footprint and water consumption by half through green energy and water-saving measures.
9. SUPERSCANDI Swedish Dishcloths – The best eco-friendly dishcloth
SUPERSCANDI Swedish Dishcloths are made from 30% cotton and 70% cellulose wood pulp, and they are capable of absorbing water 20 times its weight. Since they are made of natural plant fibers, they gradually break down during use and can be placed in the compost heap for composting.
10. Amalgamated Bank – The best sustainable credit card
Amalgamated Bank is a type B enterprise with a long-standing history that cares about social, ethnic, and environmental issues. It does not invest in funds that can harm people or the Earth. Although its credit card is still made of plastic, using the credit card represents the customers' support for the bank's financial contributions to environmental protection. Compared with other financial institutions that have launched eco-friendly credit cards but still offer services to polluting industries such as the petrochemical industry, Amalgamated Bank is a much better choice.
11. Plaine Products Shampoo – The best plastic-free shampoo
Plaine Products Shampoo does not contain ingredients that are harmful to the environment such as sulfates, silicones, and synthetic fragrances. More importantly, it adopts refillable aluminum bottle packaging, where used empty bottles can be sent back to Plaine Products, who will pay for the postage and refill the bottle so that it can be reused, thereby significantly reducing the use of disposable plastic bottles.
12. Ethique soap – The best eco-friendly soap
Ethique soap uses plant-based raw materials that are sustainably produced and biodegradable. The product does not contain harmful substances such as petrochemical products, palm oil, and synthetic fragrances. Compared to traditional shower gel, it reduces water consumption associated with the plastic packaging and production process.
13. renouvo Bagasse Cups – The best reusable eco-friendly cup
renouvo Bagasse Cups can hold hot beverages and be reused 540 times. Made of renewable bagasse, the cup generates only 2.46g of carbon emissions per use according to BSI audits. The compostable material allows the product to be composted and returned to the environment at the end of its lifespan.
14. Patagonia Clothing – The best sustainable clothes
Patagonia manufactures clothes using 35-100% recycled materials in fair trade factories to protect the environment and workers' rights.
15. Acer Aspire Vero – The best sustainable laptop
Acer Aspire Vero uses up to 30% and 50% post-consumer resin (PCR) during the production of the chassis and keycaps, respectively. Furthermore, the packaging consists of 100% recyclable cardboard boxes made from 85% recycled materials. The laptop is easy to disassemble to facilitate subsequent repairs, upgrades, and recycling.
16. Trust Yvi+ Silent Wireless Mouse – The best eco-friendly mouse
Trust Yvi+ Silent Wireless Mouse is made from 83% recycled material, and it is available in a wide selection of colors, making it an eco-friendly and aesthetically pleasing choice.
17. Fairphone 4 – The best zero waste smartphone
Fairphone 4 features a back cover made from 100% recycled plastic, and it comes with a cell phone recycling plan to achieve an electronic waste neutral phone. The phone's modular design means that its battery, cameras, case, speakers, and other components are replaceable. The phone is supported by a five-year warranty and seven-year software update, allowing consumers to easily replace components at home and considerably extend the phone's lifespan.
18. Solgaard Lifepack Backpack – The best sustainable backpack
Solgaard Lifepack Backpack's exterior and lining are made from upgraded and remanufactured ocean plastics. The backpack is equipped with a solar panel, turning it into a mobile charging station that provides green energy for electronic devices.
19. Pela Phone Case – The best plant fiber phone case
Pela uses flax shive and a plant-based biopolymer to produce the phone case that complies with BPI's industrial composting standards. It contains zero plastic and reduces carbon emissions and water consumption by 30% and 34%, respectively, making it an eco-friendly alternative for phone protection for a wide range of smartphones on the market.
20. renouvo Compostable Bagasse Bag – The best compostable shopping bag
renouvo Compostable Bagasse Bag is light, portable, resilient, and resistant against leakage. If wear and tear occur after multiple uses, it can be quickly broken down in a home composting environment. Made of bagasse, a type of agricultural waste, the bag is a low-carbon, renewable, and sustainable product.
21. Thousand Fell • Lace Up – The best eco-friendly shoes
Thousand Fell shoes are made from recycled plastics, natural rubber, coconut shell, and bagasse. In addition, natural coatings such as aloe vera or quartz are used to enhance their water resistance. The sole is made of recycled rubber, and consumers can receive a US$20 shopping credit by returning their old shoes to the manufacturer, saving the planet and their wallet at the same time.
22. Solios The Solar Curve – The best eco-friendly watch
Solios is the first certified B Corporation in the watch industry. The Solar Curve by Solios adopts solar power in place of disposable batteries, providing six months of power with only two hours of sun exposure, and the battery retains 80% of its charging capacity after two decades. In addition, the metal components are made of recycled stainless steel, and the strap is made of silicone without using any harmful plastic or animal leather.
23. Medley Blumen Chaise Sectional – The best sustainable chair
Medley Blumen Chaise Sectional is crafted from FSC-certified wood, and the buyer may choose between natural rubber or wool filling. The fabric is made from Greenguard Gold, GOTS, or Oeko-Tex 100-certified cotton and flax, which is finished in a layer of water-resistant coating consisting of beeswax, palm wax, and olive oil.
24. Natracare Organic Cotton Regular Tampons – The best eco-friendly feminine hygiene product
Natracare Organic Cotton Regular Tampons contain zero plastic and 100% organic cotton bleached with a non-chlorine formula, and no artificial fragrance is added, making it a natural hygiene product.
25. renouvo Sugarcane Lunch Box – The best compostable lunch box
renouvo Sugarcane Lunch Box is water and oil resistant, making it ideal for holding all sorts of fresh food, cooked food, or fruit. Created from bagasse, a natural plant fiber, it will not release toxic chemicals when exposed to oil, and it can be composted and broken down together with the leftovers after use.
26. VivaTerra Recycled Paper Mini Lamp On Mango Wood Base – The best natural plant-based lamp
The lamp features a base made from sustainably cultivated mango wood and a lampshade made from recycled paper. The lamp is available in different versions including decorative bamboo, acacia, or fern leaves to add a touch of elegance to your home ambiance.
27. Bjorn Bikes – The best Eco-friendly bicycle
Bjorn sells bicycles made of 100% recyclable handles, 60% recycled stainless steel frames, and 70% recycled alloy forks. Furthermore, the packaging is made from 100% recycled cardboard. All of the carbon emissions are negated through carbon offset to achieve the last mile in the most eco-friendly manner.
28. April Notes Tab Top Linen Curtain Panel – The best sustainable curtains
April Notes Tab Top Linen Curtain Panel is handcrafted from certified flax. It is made to order to prevent waste caused by inventory. At the same time, plastic buttons are replaced by shell buttons, and the packaging is produced using biodegradable corn to minimize negative environmental impacts.
29. Teapigs Peppermint Tea – The best plastic-free tea bags
The pyramid-shaped tea bags of Teapigs Peppermint Tea are made from plant starch, while the inner packaging is made from wood pulp and the outer box is made from sustainable cardboard. This means that the entire product can be composted to help us look after the environment while enjoying tea.
30. San Francisco Bay OneCUP Pod – The best degradable coffee pods
Traditional coffee pods consist of plastic and aluminum, making them difficult to recycle. San Francisco Bay OneCUP Pod uses plant fibers as raw material. The packaging and coffee pods have passed BPI industrial compostability certification, hence there is no need to cut them open to recycle the coffee grounds and pods separately. In other words, they can be sent to a commercial composting facility together in a compost bin.
Five sustainable and shopping tips you should know before shopping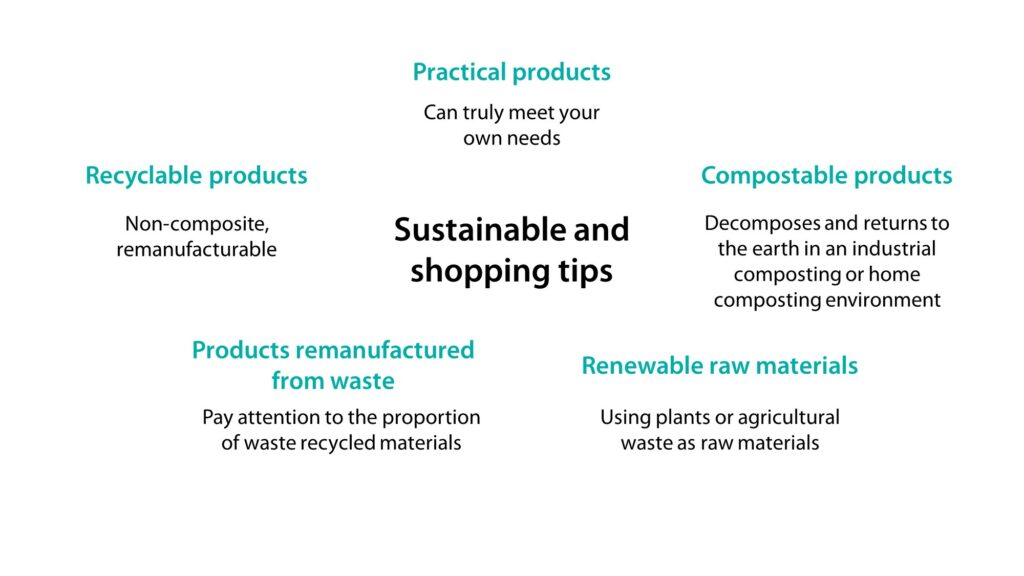 1. Practical products
The prerequisite of environmental protection is to satisfy one's needs; if a product is not practical and unable to satisfy people's needs, it will be a waste of resources even if it is produced in an eco-friendly manner. Meanwhile, make sure the product is durable and can be used for some time. It should not be of inferior quality and break down all the time, resulting in the need to purchase new products.
2. Recyclable products
Environmental products are usually made of simple materials to facilitate raw material recycling for producing new products. Most composite materials are not easily recycled, such as paper cups with a plastic coating, plastic cigarette filters, or potato chip bags made of composite metals and plastic, resulting in the generation of waste.
3. Compostable products
If products can be composted and returned to the environment after use, it is also an eco-friendly disposal method since there is no need to consume extra energy for recycling and reproduction. Compostable products are divided into home compostable and industrial compostable products. Check if an industrial composting system is available locally; otherwise, home compostable products with less stringent decomposition requirements are recommended.
4. Products remanufactured from waste
The waste often used in this instance includes PET bottles and ocean plastics, which will help reduce waste that already exists in the environment. However, pay attention to the content of recycled materials in the waste, because most of them must be mixed with new materials for remanufacturing. However, if only 5-10% recycled materials are used, the environmental benefits will be less significant.
5. Renewable raw materials
Plants are common raw materials for renewable products. The cultivation and harvesting of plants such as cotton and wood will have an impact on the environment, thus choosing FSC- and organic cotton-certified raw materials ensures sustainability. Agricultural waste such as bagasse, coffee grounds, and wheat straw are excellent examples of renewable raw materials.
Why are sustainable and eco-friendly products important to us?
Every cent we spend determines the fate of the world we live in. Choosing sustainable products will encourage manufacturers to produce more eco-friendly products, and more competition will be beneficial for consumers, allowing us to purchase more practical and eco-friendly products at more affordable prices, in turn helping us to seamlessly integrate sustainable living into everyday life.
The importance of sustainability can be found in this article: THE IMPORTANCE OF SUSTAINABLE DEVELOPMENT AND THE THREE PILLARS.