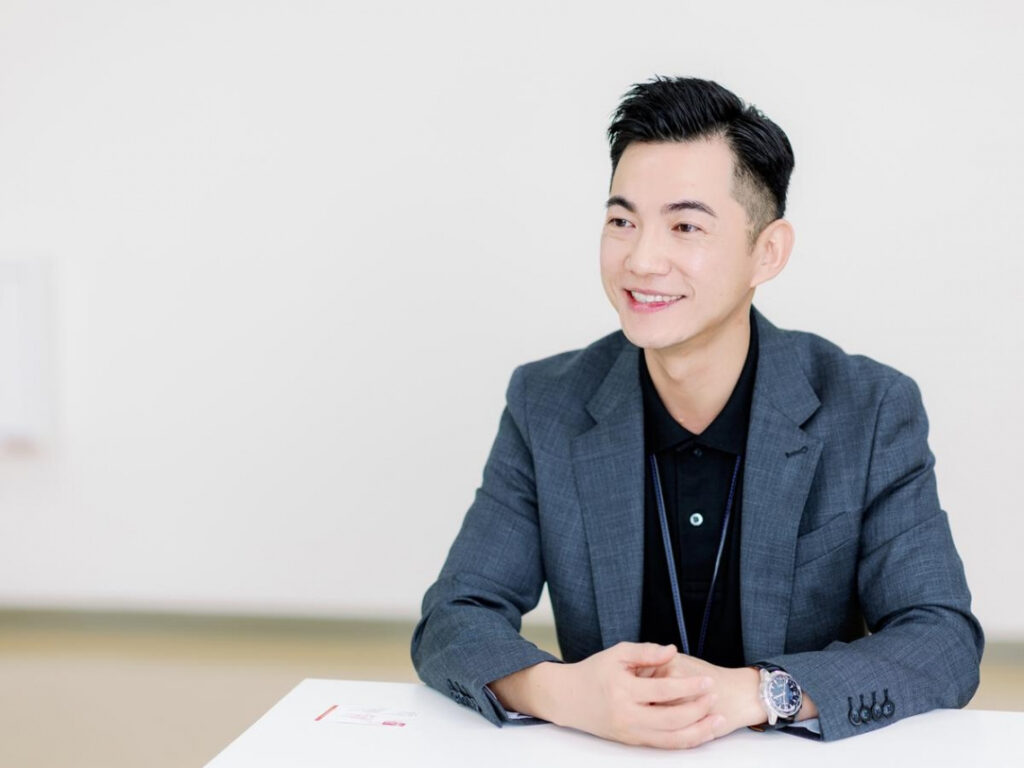 Have you ever thought that sugarcane, pineapple leaves, banana tree trunks, and even coffee grounds, grape pomace, etc., these agricultural waste that used to spend extra human and material resources to deal with, can actually be given a second or third life and transformed into the most popular environmental protection materials nowadays? Ju Tian Cleantech (hereinafter being referred to as Ju Tian), located in Nantou, is committed to turning waste into gold and developing various plant fiber straws, cup lids, tableware, and cutlery without cutting down trees or manufacturing new consumables, replacing disposable plastic. The exclusive technology is not only a top contestant on invention awards overseas but also makes eco-friendly products that are sold in 30 countries around the world, snatching a piece of the 100 million wealth of circular economy.
In 2018, marine biologists found a sea turtle in Costa Rica with a 15-centimeter straw stuck in its nostril, or the stomach of a stranded Cuvier's beaked whale was filled with a 40-kilogram plastic bag, starving and dehydrated… These shocking images have made human beings begin to think about how much plastic waste is harming other creatures on the earth. Who is the executioner behind a series of butterfly effects such as global warming caused by the greenhouse effect?
Love The Earth Does Not Need To Use New Materials. Sugarcane Straws Are Sold For Export To Earn Money.
Chien-chung Huang, the founder of Ju Tian said that " Oceans are polluted by disposable plastics, obscuring 80% of the algae's ability to produce oxygen, and I want to start from the source. These plastic replacement products can be naturally decomposed even if they inadvertently fall into the ocean or soil." In fact, his master's thesis is to study how to use banana fiber to strengthen biodegradable green composite materials, helping farmers solve a large amount of agricultural waste from the source.
The news events in 2018 prompted Chien-chung Huang, who researched natural decomposition materials in two medium and large material companies, to embark on the road of entrepreneurship. Familiarity with the material allowed the Ju Tian team to successfully develop the first sugarcane straw in only two months. "There is a lot of bagasse in Taiwan. In the past, it could only be made into compost, but now we turn it into sugarcane straws and sell them all over the world. It means that we export Taiwan's agricultural waste to increase profit."
"I insist on not wasting more resources in order to make an eco-friendly product. To integrate with the existing equipment, the R&D side must constantly adjust the formula and take into account productivity. Fortunately, the straw production rate is very close to traditional plastics currently. " In addition to bagasse, Chien-chung Huang also actively challenged multi-materials such as rice husks and coffee grounds. He said with a smile: "The chemical structure of all plant fibers is the same, the difference is only in characteristics. Coffee is a particle structure, and sugarcane is in a strip shape; the sugarcane product will be more rigid, coffee will be softer, and the formula can be compound."
The French Government Invited The Establishment Of A Branch Office. Grape Pomace Is Used As Raw Material For Desks And Chairs.
The research and development of innovative materials for sugarcane straws won the gold medal and the Special Jury Award at the 2018 French inventions at Concours Lépine, which instantly put it on the international map. Now, Ju Tian has also been invited by the French government to set up a branch in Lyon this month (October 2020), and has made grape pulp into raw materials for desks and chairs, making a silk purse out of a sow's ear; it will also set up a service point in Vancouver, Canada early next year. A large amount of local reed bar waste is the natural raw material for making disposable cutlery and tableware.
Facing the demand for agricultural waste cooperation domestically and abroad, Ju Tian prepared in advance to wait for business opportunities at a fast and accurate speed. As the United Nations SDGs vigorously advocate sustainable development goals, and the global plastic restriction policy is accelerating, many front-line multinational companies have come to inquire about the possibility of cooperation. Ju Tian was selected for the Taipei SElect Program(Taipei City Social Enterprise) by the Department of Economic Development, Taipei City Government this year. The Department of Economic Development and KPMG jointly provided guidance. Chien-chung Huang especially thanked the Taipei City Government for providing substantial corporate preferential loans for assistance, and even the details of how to formulate international contracts, confidentiality agreements, and equity allocation can also be provided with advice and suggestions to help ignite the seeds of social enterprises. Chien-chung Huang emphasized: "Even general law firms don't know much about the contract formulation of these cooperation cases, but 95% of our products are exported, and the Taipei City Government and KPMG have provided very practical help."
There is only one Earth. Sustainable development is the only way to the future. Ju Tian also starts from itself, and joins hands with Oh!Cafe, HWC ROASTERS FOOD & BEVERAGE CO., LTD and other businesses make coffee grounds into straws, cup lids, disposable plastic bags, to practice business opportunities of circular economy. Holding the whole world in view and establishing a foothold in Taiwan, Ju Tian joined the French Polymeris, stayed on the top of latest environmental regulations in Europe, and launched the most suitable products. In the country, Ju Tian also actively signed an industry-academia cooperation contract with the Chaoyang University of Technology, going deep into the campus to hold forums with students, and rooting down to cultivate talents for circular economy.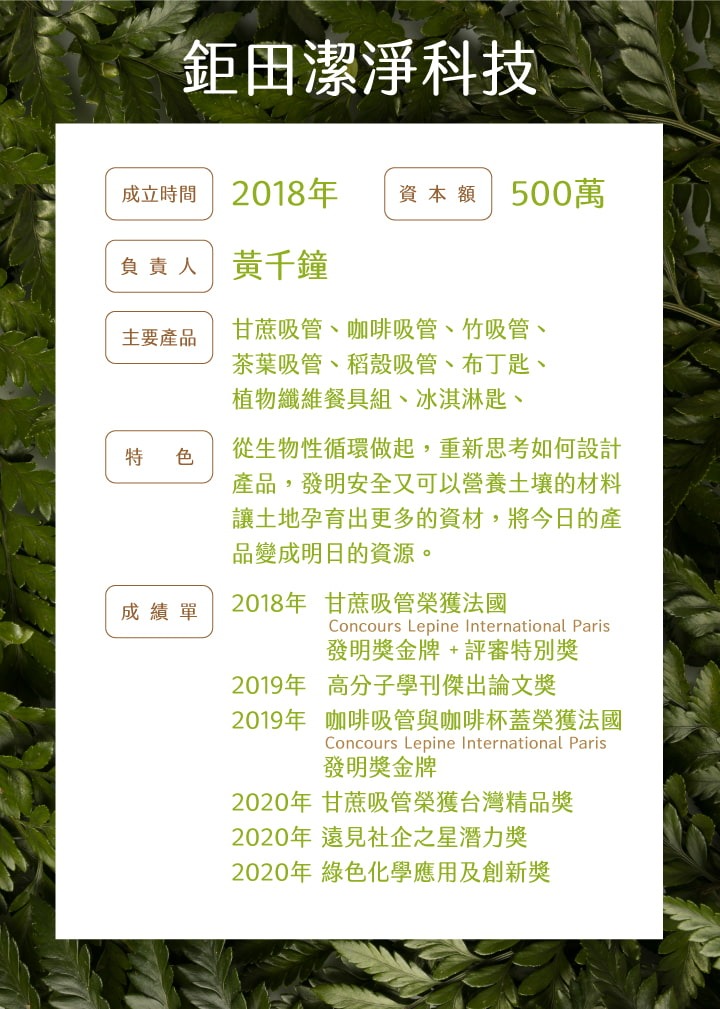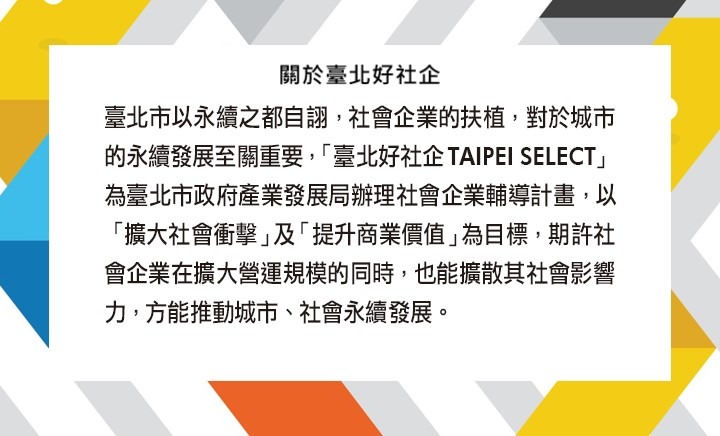 Source: https://reurl.cc/3jYDbj