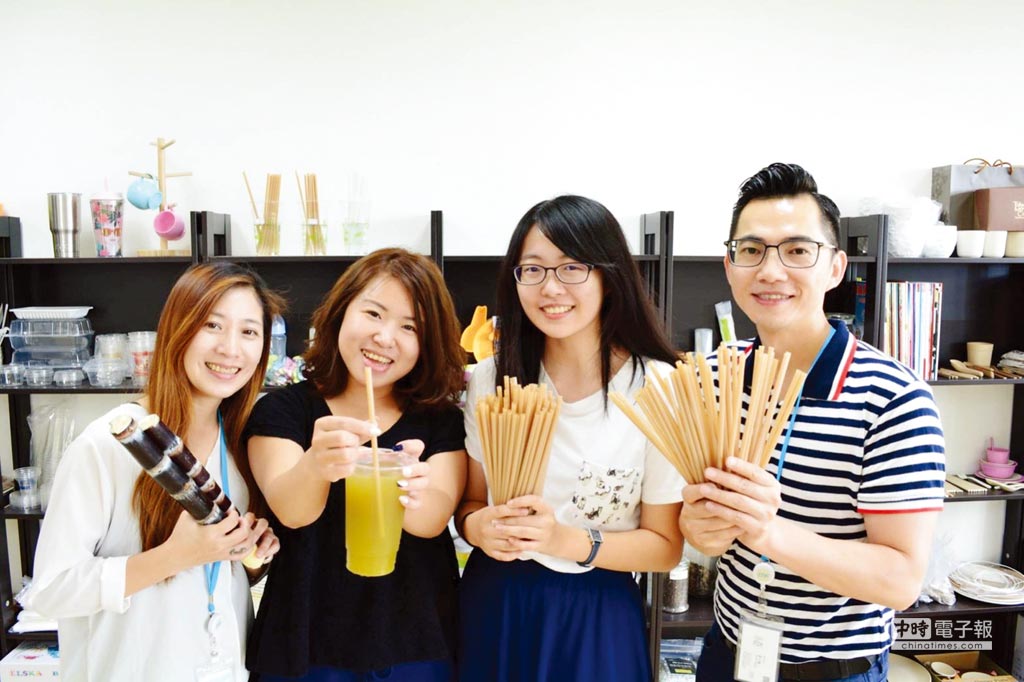 Chien-Chung Huang(right 1), an alumnus of the Department of Applied Chemistry of CYUT, sugarcane fiber straw developed with agricultural recycled materials is favored by the European market. Photo / Provided by CYUT 
Amid public concern over marine plastic pollution and the plastic ban, the EPA has officially announced a draft policy restricting the use of single-use plastic straws, starting July 2019, a total of 8,000 businesses in four categories, including public sector, state and private schools, department stores, shopping centers, and fast-food chains, are prohibited from providing single-use plastic straws to consumers for internal use.
After graduating from CYUT with a master's degree in Department of Applied Chemistry, Chien-Chung Huang has successfully started his own business, JuTian Eco-Material Co., Ltd. and launched the "100% ZHI (/Plant/)" brand of natural material products, which is made of 100% eco-friendly materials instead of plastic. Among them, the sugarcane straw made from bagasse is mass-produced this month and can withstand temperatures as low as -20 degrees Celsius. It has passed the SGS Taiwan food container standard, also applied for patents and international certifications, has great potential for market development.
Chien-Chung Huang said that in order to promote a plastic-free living and implement a circular economy, he decided to use agricultural materials to regenerate and use raw materials from all plant-sourced to give new value through product design and development. The characteristics of sugarcane straws are that they are made of natural sugarcane fiber, which can emit a sweet scent, and are made of all plant-based materials without any plastic. It is not only safe and non-toxic, but also eco-friendly and decomposable, which is a solution to the environmental pollution caused by plastic straws nowadays. In addition, the sugarcane fiber straws are highly recognizable, its natural fiber color can be clearly distinguished from the general plastic straws with a special color, light coffee color, the use of bagasse recycling, coupled with plant polymers, not only can be reused but also automatically decomposed, there is a sweet sugarcane smell, quite well received by the market. In the past two months, the team has not only received invitations from more than 20 manufacturers in China, but also negotiated with French wineries to recycle spent grain and grape pomace and develop them into plant fiber application products, creating more possibilities for agricultural waste.
He expressed his gratitude to his alma mater CYUT, and the Department of Applied Chemistry's Prof. Yan-Feng Shi and Prof. Wei-Jun Qian, which enabled him to use his studies to turn bagasse and plant fiber into bowls, straws and tableware, and to pass the SGS food safety testing and international biodegradable certification. With the assistance of Su-Juan Liu, deputy director of the Academia-Industry Cooperation, he successfully obtained multiple industrial resources, started his own business and linked the European market.
Source: https://www.chinatimes.com/newspapers/20180710000450-260208?chdtv#