The use of bagasse and coffee grounds to make plant-based fiber straws, turn grape pomace from the red wine production process into tables and chairs, and the recycling of agricultural waste to make cup lids and cutlery to replace disposable plastic are the major breakthroughs in promoting green circulation economy. After years of hard work, the CEO of JuTian Cleantech, Mr. Chien-Chung Huang, who developed this patented technology, has won a Jury's special gold medal in Concours Lépine Méditerranéen Montpelier, the CSR – Social Enterprise Star Potential Award by Global Views Monthly, the Taipei SElect (Taipei City Social Enterprise), the Taiwan Excellence Award, the Green Chemistry Application and Innovation Award and many other awards. The company has attracted a lot of attention.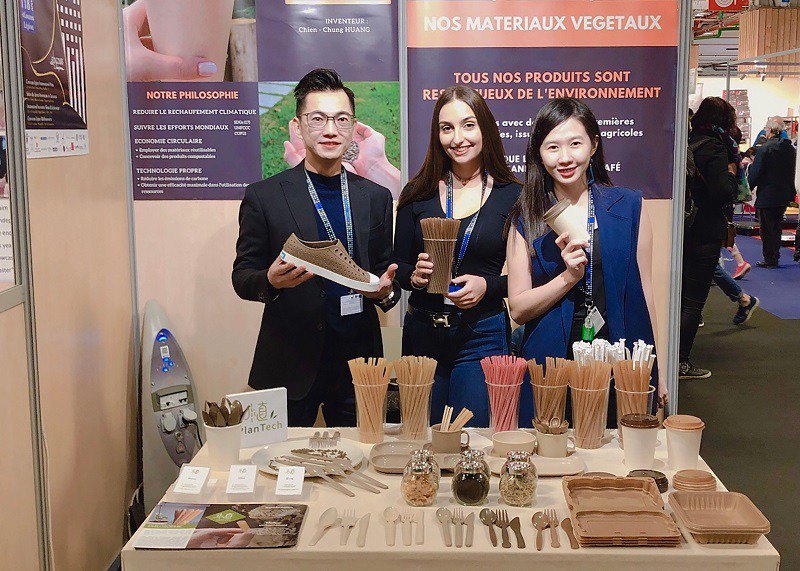 The sugarcane straws developed by Chien-Chung Huang(right 1), an alumnus of the Department of Applied Chemistry of CYUT, are sold to 30 countries worldwide, with sales reaching 6 million units. CYUT / Provided CYUT / Provided 
Concerned about global climate change, the Paris Agreement, and the environmental and marine issues caused by plastic products, Chien-Chung Huang, after graduating from CYUT with a master's degree in Department of Applied Chemistry, successfully started his own business with the assistance of the Academia-Industry Cooperation, and has launched a brand of healthy and natural cutlery made of eco-friendly materials that have replaced 100% of plastic. One of the products is a sugarcane fiber straw made from bagasse, which can withstand temperatures as low as -20 degrees and has been awarded several patents and international certifications and has received many patents and international certifications, becoming a popular product with sales reaching 6 million units in 30 countries worldwide.
In order to promote a plastic-free living and implement a circular economy, he decided to use agricultural materials to regenerate and use raw materials from all plant-sourced to give new value through product design and development, and innovative technology is used to bring waste back into the industrial chain for continuous recycling, so that resources can be used more efficiently. Natural renewable waste such as bamboo fiber, bagasse, coffee grounds, etc., are recycled and applied, so that the whole industrial cycle can reach zero waste, reduce the environmental burden, and achieve sustainable development.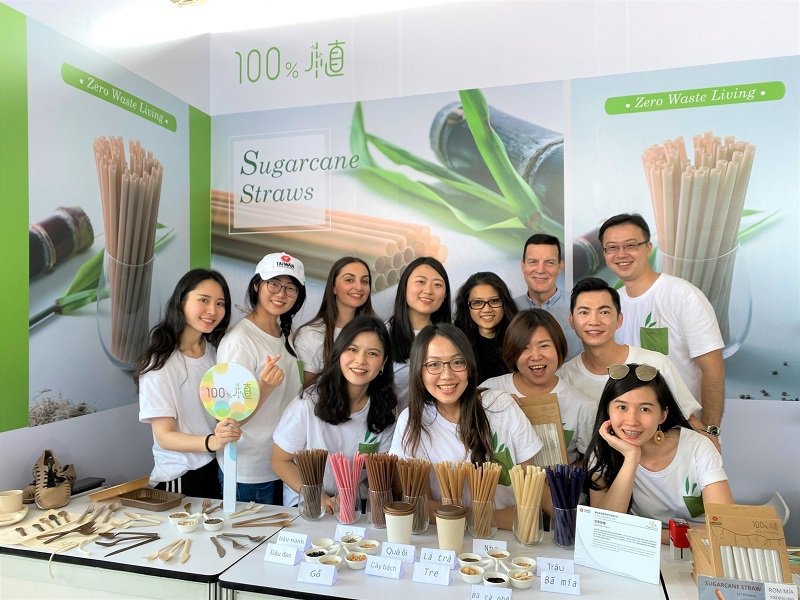 With his expertise in R&D of agricultural waste recycling, Chien-Chung Huang has been making cup lids and cutlery to replace single-use plastic, and has devoted himself to promoting the green circulation economy. CYUT / Provided CYUT / Provided 
He expressed his gratitude to his alma mater CYUT, and the Department of Applied Chemistry's Prof. Yan-Feng Shi and Prof. Wei-Jun Qian, which enabled him to use his studies to turn bagasse and plant fiber into bowls, straws and tableware, and to pass the SGS food safety testing and international biodegradable certification. With the assistance of Su-Juan Liu, deputy director of the Academia-Industry Cooperation, he successfully obtained multiple industrial resources, started his own business, entered the Chaoyang Innovation Incubation Center and linked the European market.Under the arrangement of TAITRA, he was invited to the Globe 2020 The Business Summit with Global Impact in Vancouver, Canada.
In recent years, the CYUT has invested in local care, talent cultivation, and environmental protection, and has achieved concrete results. Not only has reach among the top 100 in three indicators of the Times Higher Education World University Rankings in the world, but it has also been ranked among the top private universities in the USR University Citizenship Awards, and in the future, it will also set up a R&D base with its outstanding alumnus, Chien-Chung Huang, to promote environmental sustainability and create new opportunities for eco-friendly industries.