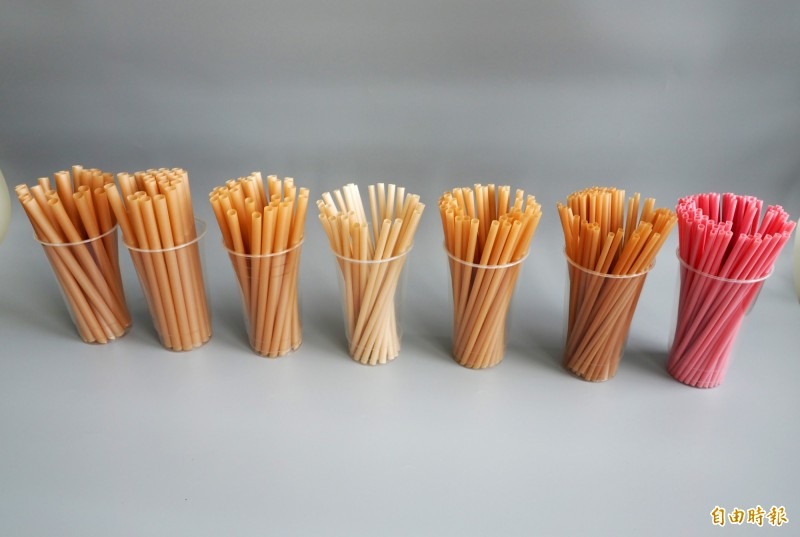 The sugarcane straws have been awarded Taiwan's Green Mark and Germany's Biodegradable Certification, European plastic ban countries and Taiwan can be used. (Photo by reporter Feng-Li Chen) 
Last year with sugarcane straws and this year with coffee grounds straw and lid, awarded a gold medal in Concours Lépine International Paris, Chien-Chung Huang and his team reused the fibers from agricultural waste, rice husks and tea residues are developed into straws, and will also develop grape pomace tables and chairs, making future household products more eco-friendly and have infinite possibilities.
JuTian Cleantech Co., Ltd., located at Central Taiwan Innovation Campus, MOEA in Zhongxing New Village, several young people led by Chien-Chung Huang conducted R&D of plant fibers. Last year, the straw made from bagasse was awarded a gold medal in Concours Lépine Méditerranéen Montpellier. The straw was tested for biodegradability by international testing institutes before participating in the exhibition, and then applied for a mark and certification from Taiwan and Germany. At the end of June, finally received Taiwan's Green Mark and Germany's DIN CERTCO certification. Starting this month, straw can be used in European plastic ban countries and Taiwan.
Chien-Chung Huang's team used the technology of reusing agricultural waste materials. The French city government of Lyon invited to set up a company. Farmers and manufacturers in Taiwan and abroad have also asked for assistance to reuse these waste materials, including: rice husks, tea residues, grape pomace, residue of citronella after the production of essential oil, Hinoki wood chips, etc.
He said that the team has developed and started producing rice husk straws and green tea straws, in addition to accepting the French wineries and farmers requested the development of grape pomace desks, chairs and other products, the use of Taiwan grape pomace as materials for R&D in recent months, is also about to complete the development.
According to data, Taiwan can produce 3 million tons of rice husks every year, if reuse can reduce the amount of waste, the use of rice husks will keep increasing in the future if the order quantity increases, he said.
As for the green tea straws, they are made from tea residues or selected tea sticks for material after the tea making process in Mingjian Township, both of which are biodegradable materials.
Sugarcane straws have been sold to many countries, including: Japan, Korea, Hong Kong, Macau, Malaysia, USA, Australia, Netherlands, Franch, New Zealand, Singapore, Canada, Dubai, Mauritius, Myanmar, Vietnam, Philippines, etc.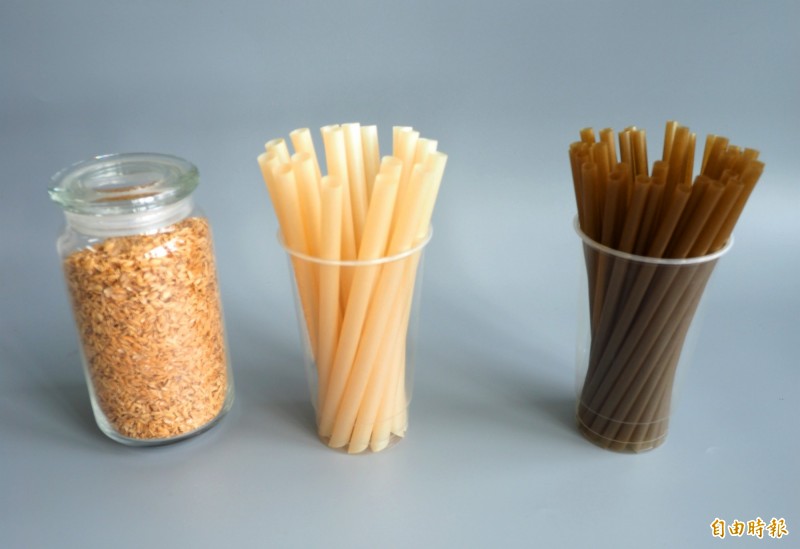 Rice husk straws (left) and green tea straws (right) made from rice husk and tea residue. (Photo by reporter Feng-Li Chen)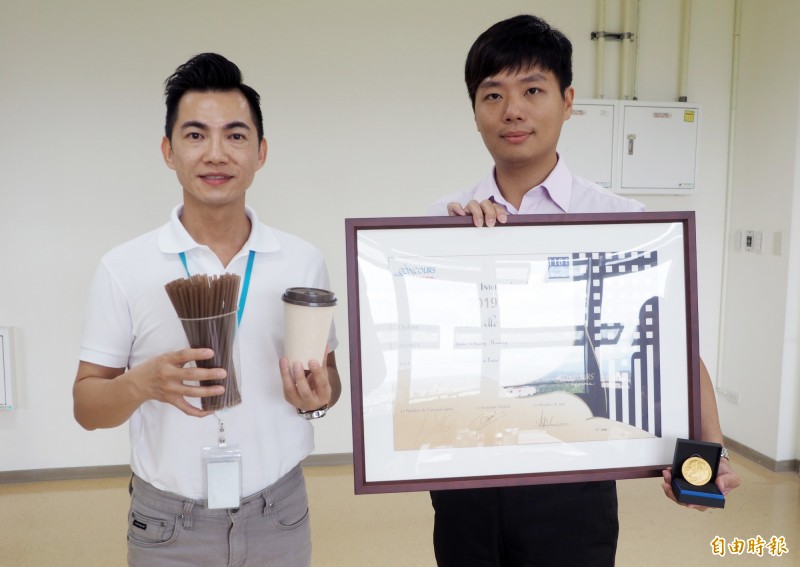 The coffee grounds straw and lid developed by Chien-Chung Huang(left) and his team was awarded a gold medal in Concours Lépine International Paris again this year. (Photo by reporter Feng-Li Chen)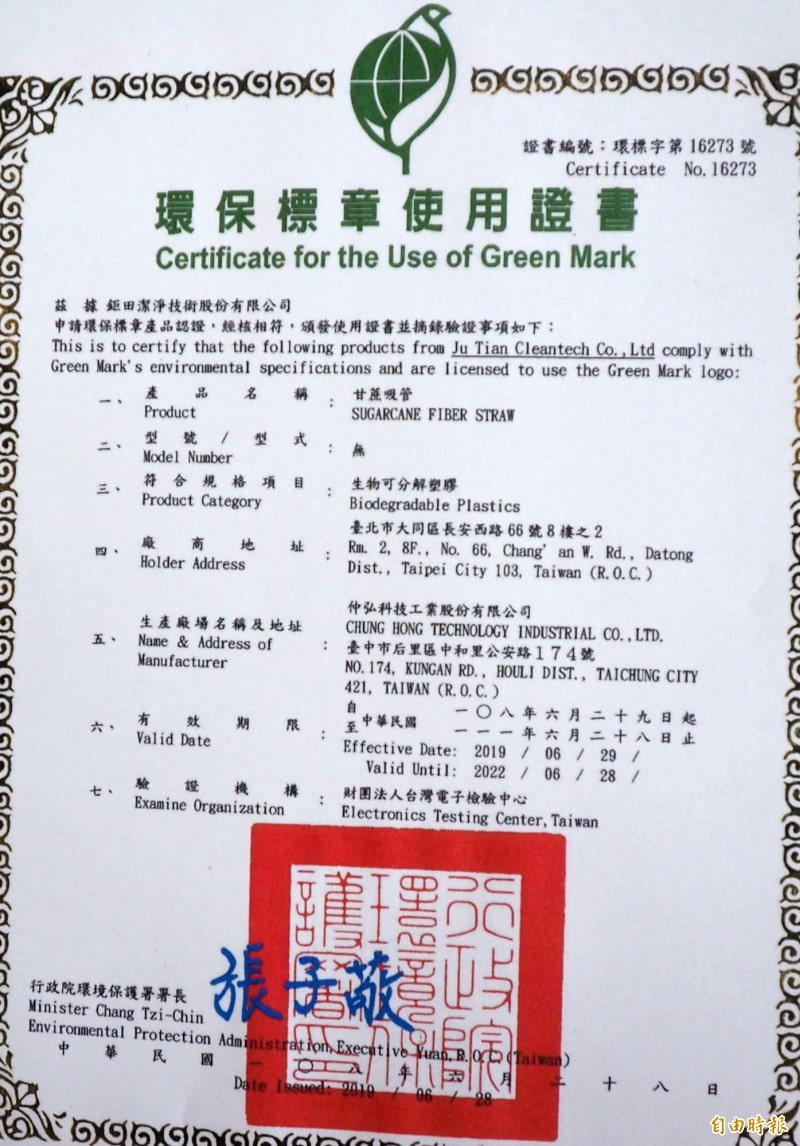 Sugarcane straws have been certified to use the Green Mark in Taiwan. (Photo by reporter Feng-Li Chen)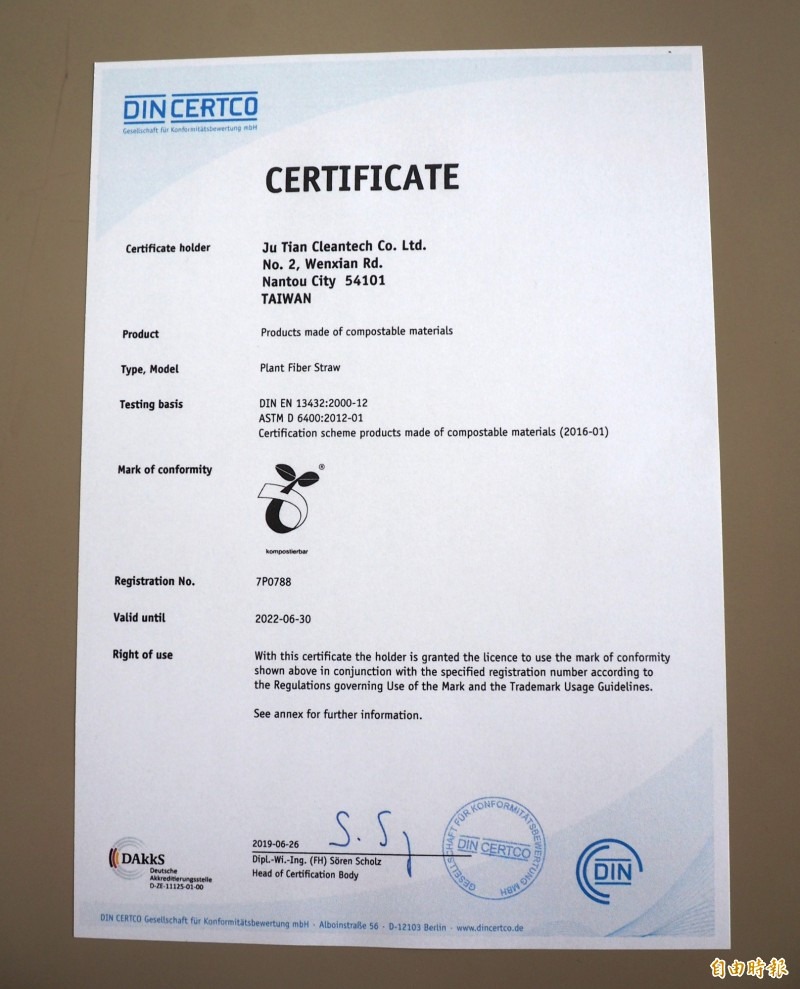 Sugarcane straws have been certified as biodegradable by DIN CERTCO of Germany. (Photo by reporter Feng-Li Chen)
Source: https://news.ltn.com.tw/news/life/breakingnews/2845819#