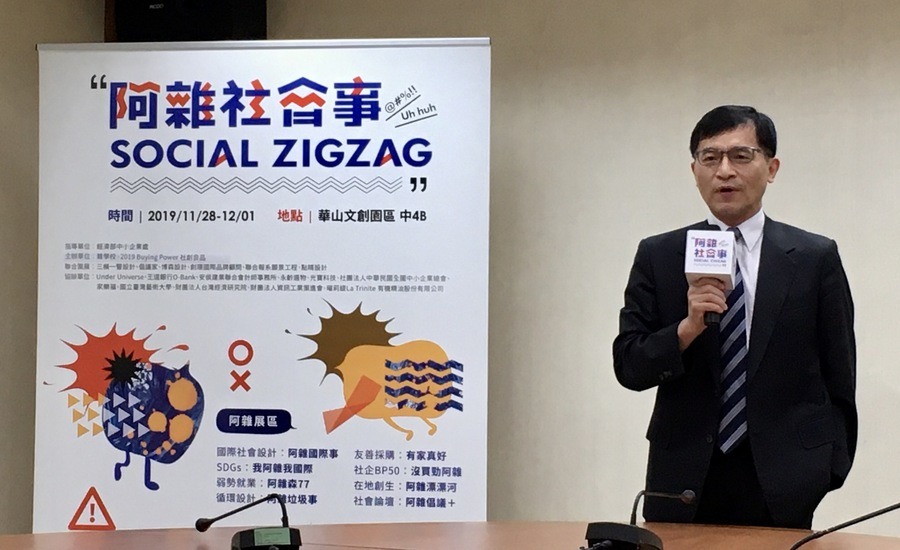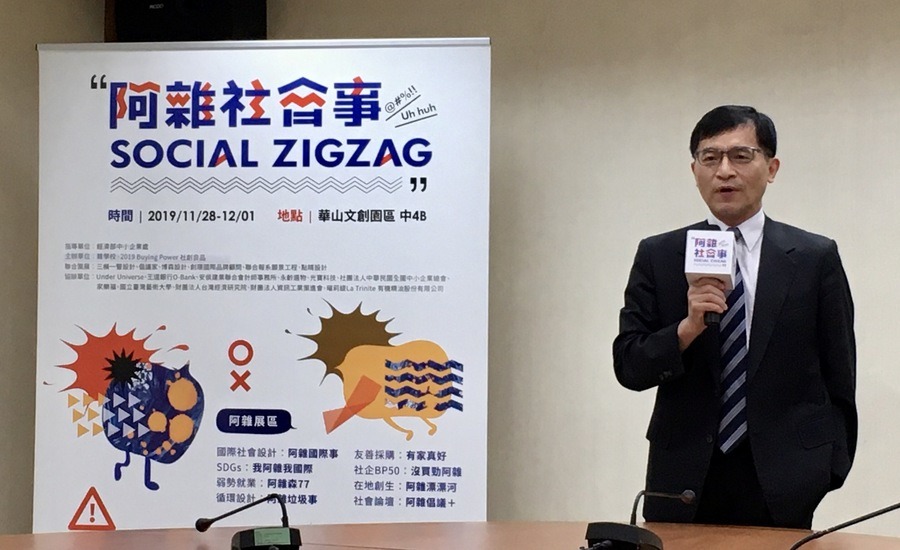 The SMEA of MOEA and Zigzag school promoted "Social Zigzag" on the 19th. The picture shows the Director of SMEA, Jin-Chang Ho. (Photo by Kai-Wen Shih/Awakening News Networks) 
In order to promote sustainable development and social innovation, the SMEA of MOEA, in collaboration with Zigzag school, is organizing the "Social Zigzag" exhibition, which will display a variety of products at the press conference on the 19th, including colorful cookies made by the underprivileged, eco-friendly tea leaves and care products made from a single natural ingredient, as well as straws made from bamboo fiber and bagasse waste.
Jin-Chang Ho, director of SMEA, said, "The social innovation program launched in 2018 encourages start-ups and large enterprises to follow the concept of sustainable development and will make Taiwan a progressive country. He also said that responding to the UN's 17 sustainable development goals, including eradicating poverty, reducing inequality and sustainable consumption, would help Taiwan solve its social problems in the future.
"The goal is to find out the direction of sustainable social development with an excellent business model." In addition to organizing the "Social Zigzag" exhibition at Huashan 1914 Creative Park from November 28 to December 1, the SMEA also encouraging large enterprises and government procurement of socially innovative and eco-friendly products, so as to break the long-standing stratosphere of dialogue with corporations and companies, to shorten the distance with the people, and to promote the concept of sustainable development.
The MOEA will plan the "Buying Power" Social Innovation Zone under the themes of sustainable development, disadvantaged employment, circular economy, and friendly purchasing. This zone will collect products that have been certified by the top 50 social innovation platforms, including the bath brand "Blueseeds", which supports local small farmers and restores pure Taitung farmland; "1982 de glacée", which selects ingredients based on the principle of reducing carbon footprints; and "Greenvines", which produces health care products based on the concept of "abandoning unnecessary ingredients", etc.
Project Manager of "Zigzag school", Hua-Zhen Chen, said that the exhibition is co-organized with government ministries, including Taipei Department of Education, Ministry of Education and the Ministry of Culture, etc. Through the collaboration, more people can pay attention to the issues of social sustainability and innovation. The main pavilion will have five exhibition areas: "Parent-Child Learning, New-type Education, Social Practice, Educational Design, and Zigzag Market", including handicraft courses and board games for children and adults to enjoy together.