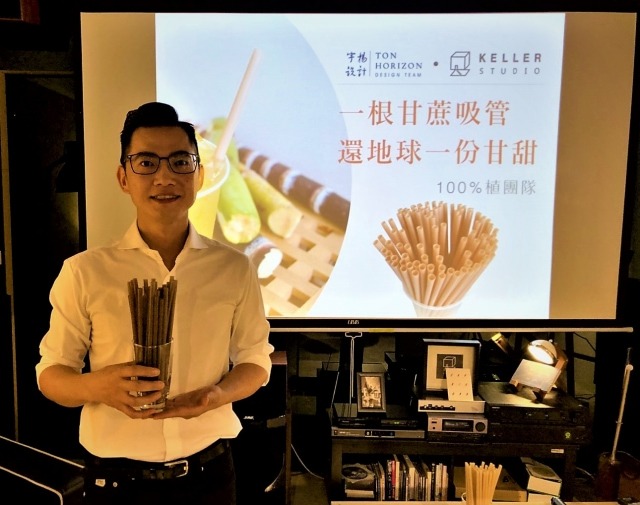 The founder of "Sugarcane Straw", Chien-Chung Huang mentioned that the second generation of eco-friendly straws will include coffee grounds, bamboo fiber, rice straw, rice husk, wine residue and other agricultural waste materials.(Photo by reporter Yu-Yan Huang)
【Reporter Yu-Yan Huang/Taichung】Taiwan uses 3 billion plastic straws every year. Under the worldwide plastic ban, glass, iron, and even biscuits can become substitutes, the "sugarcane straw", which is eco-friendly and fashionable, do not contain plasticizers, safe and non-toxic, can be decomposed by the environment, do not rot when soaked in water and do not crack when exposed to low temperatures, making them a global star commodity. In response to the market demand, the second generation will be launched soon, not only high temperature resistant, but also coffee grounds and bamboo fiber can be used. This R&D will further expand the recycling of agricultural waste, attracting the attention of major manufacturers in Europe and the US, including Starbucks.
In recent years, Ton Horizon Design Team, a company dedicated to aesthetic design, launched a series of lectures and invited a team of sugarcane straws to share the humanistic spirit of loving and cherishing things from daily consumption life, and to encourage the concept of friendly manufacturing, recycling and utilization from the design point of view.
According to March 2018 data from the International Network of Environmental Organizations, 500 million straws are used every day in the US alone. Under the worldwide plastic ban, the introduction of the sugarcane straw was a key technological revolution, but this R&D has been lying in the research lab for a long time. Founder Chien-Chung Huang mentioned that many R&D projects cannot be mass-produced and marketed without technology transfer. You may have heard of algae cups and straws that can be eaten and used, but they are just creative products. As long as they cannot be commercialized, they will not save the earth from ecological warming.
Based on his experience at international exhibitions in the past few months, he said that European countries are now more concerned about the R&D process of second-generation sugarcane straws. Just as the German market hopes to increase the heat resistance to 90°C due to transportation needs, this technology is not difficult to adjust in the process. He revealed that bagasse is not the only material currently used, coffee grounds, bamboo fiber straws will be available one after another, and even rice straw, rice husk, wine residue and other agricultural waste materials, have entered the R&D stage.
In the past 2 years, the experience of cooperation with the Department of Applied Chemistry and Technology Innovation Incubation Center "Green Energy Materials" of CYUT is going international step by step. From technical support, international marketing, overseas fundraising, industrial exchanges, we have been making breakthroughs and are applying for FDA certification as the next step, he said.
The market of sugarcane straws has also led to the concerns of many traditional plastic straw factories. He explained that the bagasse content of a sugarcane straw is about 50%, and Taiwan Sugar Corporation is sufficient to supply these waste materials; and the process technology developed so far, even traditional plastic straw factories can make their own without the need to update equipment.
He said he does not want to compete with manufacturers for profits, but wants consumers to use friendly products to care for the earth, "Compared to stainless steel and glass straws, can you imagine another stainless steel straw being eaten by sea turtles?"
Source: https://www.epochtimes.com.tw/n259281/突破全球限塑令—-台灣甘蔗吸管進軍歐美.html#