In 2020, The 3rd Annual Social Enterprise Award Hosted By "Global Views Monthly " – Star Of Social Enterprise Selection, Announced The Results Of The Primary Selection. Among The Star Of Social Enterprise Groups That Have Been Established For More Than Three Years, It Is Shortlisted Enterprises Include ZENZHOU Social Enterprise, Terra Treasures, Chatzutang, Blueseeds, Happiness Time, And Pley School This Year. Social Enterprises That Have Been Established For Less Than Three Years In The Potential Group, There Are Four Companies Such As Fun Lead Change, Agooday, Ju Tian Cleantech, And Bai-Chung-Ren Foodstuff. The Ten Shortlisted Social Enterprises Are Expected To Hold Their Final Election On March 27.
This year, the Star of Social Enterprise Selection attracted 45 companies to participate. According to the written information of the participating social enterprises in eight aspects, including value proposition, organizational governance, target market, financial model, and social influence, ten finalists were initially selected. The problems that the participating teams are concerned about are mostly to solve the five aspects of society: production and sales of agricultural products, environmental protection and plastic reduction, education for school children, regional revitalization, and assisting the disadvantaged in employment.
Among them, the agricultural theme is the most popular. Whether it's the youth returning to their hometowns to do farming, or deeply involved in food and agriculture education, and establishing agricultural product sales platforms, there are 15 participating companies, accounting for more than one-third. It shows that support for small farmers, friendly production, safe food and safe use are important for people's livelihood, and also the starting point of vision for many social enterprises.
Secondly, there are also nine enterprises concerned about environmental issues, including carbon emission management, solar panel construction, beach cleaning, eco-tourism, R&D and sales of plastic-reducing products.
When COVID-19 is threatening the health of people around the world, there is also a social enterprise that built an information platform for disaster reporting and material management this year. Seeing the information gap between the supply and demand of medical supplies, and cutting into the mask map with the innovative technology application is also a highlight. In the future, if it can find a business model that works, the energy will be even stronger.
Another major feature of this year's competition is that there are many familiar faces in the competition and finalists. This shows the Star of Social Enterprises Selection of "Global Views Monthly" is echoing the spirit of social cohesion, and resonating with the social enterprise ecosystem.
Agooday and Ju Tian Cleantech, which started their business with the purpose of plastic-reduction products, has seen significant growth in revenue from the sale of food bags, bamboo toothpicks, and sugarcane straws. The sugarcane straw developed by Ju Tian Cleantech Co., Ltd. has penetrated foreign markets and has unlimited business opportunities.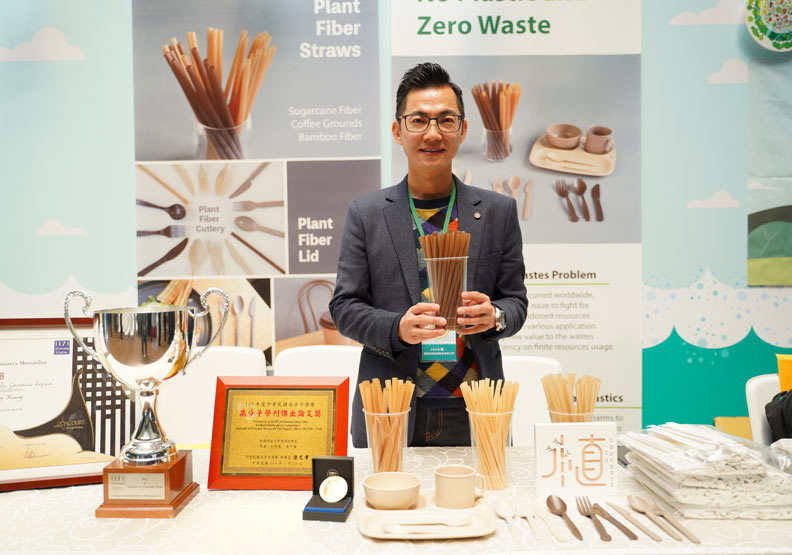 Ju Tian Cleantech, the finalist of the 3rd Annual Social Enterprise Potential Group of Global Views Monthly. Photo by Yongxiang Lai
In the Star of 2020 Social Enterprise Selection, which social enterprises can be favored by the jury? The answer will be revealed in May.