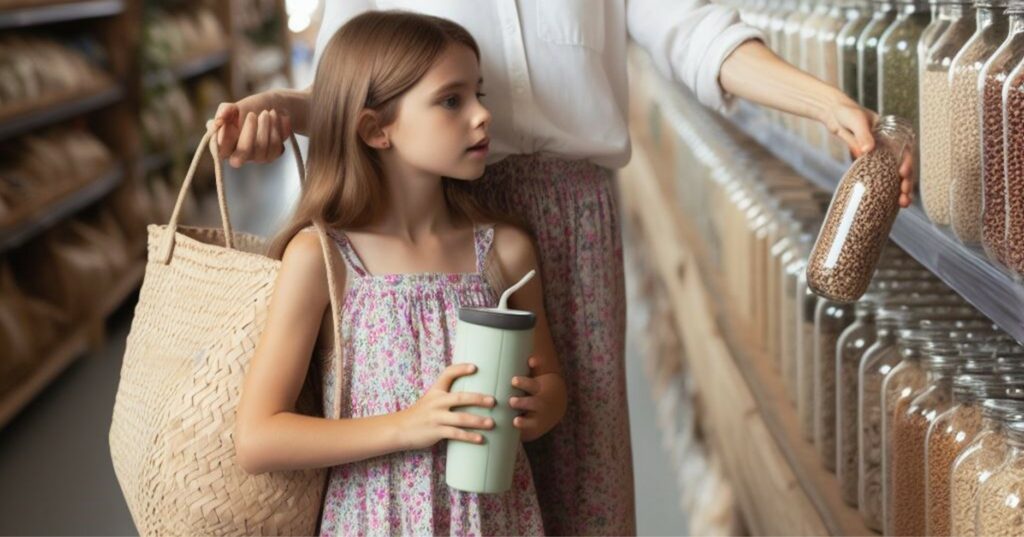 Since plastics present a potential threat to the environment and health, plastic-free products are becoming increasingly popular. Manufacturers have adopted new materials and formulation technologies to avoid adding petrochemical ingredients to products. At the same time, glass, metal, or plant fibers have replaced plastic packaging. This article will introduce various plastic-free products and sales platforms in different aspects of life.
How to get started using plastic-free products?
Before using plastic-free products, you should first understand the threat of plastic products to the environment and health, as well as the benefits of zero-plastic products and how to realize plastic-free living. Please read the article for detailed reasons for using zero-plastic products: Thirty ways to go plastic-free: Take action to use less plastics!
After obtaining a preliminary understanding of zero-plastic products and plastic-free living, you will find it easier to choose zero-plastic products to suit your needs and start making small changes to your living habits in order to include more zero-plastic products in your life.
Buy plastic-free products from now on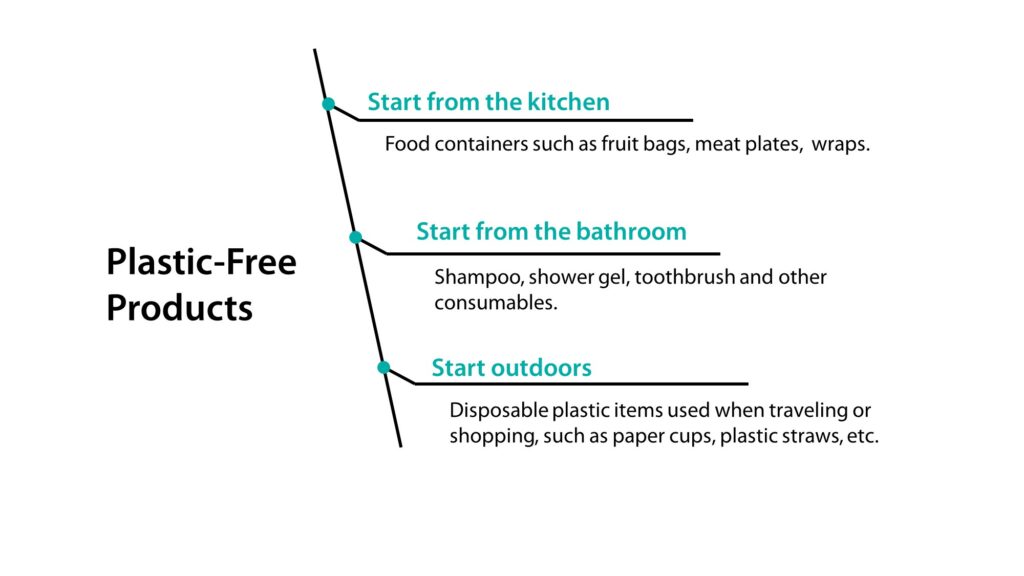 Start from the kitchen
Plastic products in the kitchen include food containers such as fruit bags, meat plates, plastic wraps, vegetable bags, tea bags, cereal bags, etc. When buying food, opt for zero-plastic packaging and store food with zero-plastic products. Kitchenware and cleaning products are also a common source of plastics.
Start from the bathroom
We use a lot of consumables in the bathroom including shampoo, shower gel, toothbrush, toothpaste, laundry detergent, lotion, razors and hand soap, etc. These consumables are mostly made of plastic or packaged in plastic. With years of use, they become a huge source of plastic waste, and this is why numerous manufacturers now provide plastic-free packaging for their products.
Start outdoors
When traveling or shopping, we usually use single-use plastic products such as wet wipes, plastic-coated coffee cups, plastic lunch boxes, plastic shopping bags, plastic straws, plastic bottles, and snack wrapping paper for hygiene and convenience reasons. These single-use plastic products are a major source of beach litter that is extremely harmful to the environment. Many countries have formulated legislation to limit the use of such products, and we can also search for and choose zero-plastic products.
12 plastic-free products in the kitchen
VARDAGEN Jar with lid
VARDAGEN Jar with lid is made of glass and silicone, without the use of any plastic material. It can store biscuits, condiments, cereals, and other foods to protect them from moisture.
Price: 7.99
BLOMNING Coffee/tea canister
BLOMNING Coffee/tea canister is made of metal to protect contents such as coffee or tea from spoiling due to exposure to oxygen and light.
Price: 2.99
5 Quart Stainless Mixing Bowl, Comes In Each
A mixing bowl is an indispensable utensil in the kitchen. This mixing bowl is made of stainless steel for mixing a wide range of ingredients. It has a flat base that does not tip over easily, and it is dishwasher and oven-safe.
Price: 8.43
Naturally Med Olive Wood Butter Knife/Spreader
Naturally Med Olive Wood Butter Knife/Spreader is made of Mediterranean olive wood and does not contain plastic, making it perfect for spreading butter on bread to start a beautiful morning.
Price: 6.99
Juvale Stainless Steel Meat Cleaver (8 In)
The meat cleaver features an ergonomic wooden handle and a hole in the blade for hanging purposes, making it perfect for cutting, slicing, and chopping meat and bones.
Price: 20.99
renouvo sugarcane bag
renouvo's sugarcane bag is made of bagasse, making it a very tough alternative for holding food and food waste without leaking. The product is plastic free and can be composted directly after use.
Price: Inquire online
OAKSWARE Cutting Board
OAKSWARE Cutting Boards are made of Acacia, an extremely tough and dense wood that can withstand heavy-duty chopping and cutting. The deep juice groove and handles help to maintain cleanliness in the kitchen and enhance the product's portability.
Price: 19.89
Dinner Cloth Napkins, Cotton Linen Blend, 12 Pack
Conventional napkins are made of non-woven fabric manufactured using petrochemical raw materials. However, this napkin is made of 85% cotton and 15% linen, and it is plastic-free, providing remarkable texture and safety, as well as introducing class and elegance to the dining table.
Price: 19.99
Earlywood long server
The versatile wooden spoon can be used for stirring and scooping food, or it can be used directly as a container to hold a small amount of fruits and vegetables. Two wood options are available: jatoba and hard maple.
Price: 42.00
HexHugger™ Bowl Cover, 3 Pack
Beeswax paper is a substitute for plastic wraps. It offers some degree of flexibility to be molded onto the container to keep it airtight and maintain the freshness of food. HexHugger™ Bowl Cover is plastic and silicone-free, and it can be used for up to a year, after which it can be composted and returned to the environment.
Price: 19.99
Pukka Organic Night Time Berry Tea Bag
The tea is formulated with a blend of chamomile, echinacea, and elderberry syrup, and it is caffeine-free to help you relax and sleep. The tea bag is held in place with an organic string, and it is plastic and staple-free. Coupled with FSC-certified paper box packaging, the product is completely plastic free.
Price: 17.67
Tayst Coffee Pods, Medium & Magnificent Medium Roast, K Cups Compatible with Keurig Coffee Maker, Sustainable Single Serve, Pack of 100
Although coffee pods are convenient, they are made of composite materials consisting of plastic and aluminum, making them difficult to recycle or decompose. Tayst Coffee Pods are made of bio-based materials, thus they can be composted after use. The coffee pods contain Rainforest Alliance-certified medium roast mocha coffee beans that emanate a bouquet of fermented fruits and rich flavors.
Price: 69.99
10 Plastic-free products in the bathroom
Isshah Biodegradable Eco-Friendly Natural Bamboo Charcoal Toothbrushes – 12 Count
The toothbrush is an important daily consumable that needs replacement every month. Isshah's bamboo charcoal toothbrush features a smooth, natural bamboo handle that is water-resistant and extremely tough. Besides plastic-free bristles, the packaging is also made of brown paper.
Price: 8.99
Loofah Sponge
Loofah Sponges are derived from dried loofah. Although it is hard and rough when dry, it will become softer after soaking in water. The skin-friendly product is ideal for scrubbing your skin.
Price: 3.99
Bamboo Hair Brush
The handle and brush pins of the Bamboo Hair Brush are made of bamboo, while the cushion base is made of natural rubber. The entire brush is plastic-free and offers some level of water resistance.
Price: 19.99
ELEVATED – Natural Toothpaste
ELEVATED – Natural Toothpaste is fluoride-free and sweetened with xylitol. The all-natural toothpaste is safe to swallow and comes in a glass jar with a metal lid. Since it is plastic-free, it can be recycled easily after use.
Price: 9.99
ORGANIC BAMBOO COTTON BUDS
ORGANIC BAMBOO COTTON BUDS feature bamboo stems and organic cotton buds, and paper packaging is used. It is time to use these 100% plastic-free cotton buds for your makeup and nail polish needs!
Price: 5.5
EarthHero Refillable Natural Body Lotion 16oz
The body lotion is free of palm oil and petroleum-based products, and it is organic and degradable. Furthermore, it comes in recyclable and refillable aluminum bottles; after use, send the empty bottles to the manufacturer for refilling.
Price: 30.00
LEAF The Razor Set
The LEAF razor features three blades for efficient and smooth shave. The entire razor is made of metal and is plastic free.
Price: 128.00
etee Lemongrass Liquid Hand Soap Concentrate
etee Lemongrass Liquid Hand Soap Concentrate has beeswax packaging, and it is plastic free from the liquid hand soap concentrate itself to its packaging. The official website also sells plastic-free soap dispensers made of glass and metal; simply add 375ml water and a tube of the liquid hand soap concentrate, shake thoroughly, and it is ready to use like an ordinary liquid hand soap.
Price: 21.00
Reel Bamboo Toilet Paper (24 rolls)
Reel uses bamboo instead of paper to manufacture the toilet paper. It is biodegradable, plastic, and is Bisphenol A (BPA) free, making it the perfect substitute for conventional toilet paper.
Price: 43.99
ANACT Hemp Towels
ANACT's towel set consists of a bath towel, a hand towel, and a wash towel, all produced with 55% hemp and 45% organic cotton, and completely plastic free.
Price: 60.00
8 Plastic-free products for the outdoors
renouvo sugarcane straws
renouvo sugarcane straws are convenient, portable, and offer fantastic water resistance and resilience qualities, hence they can be soaked in the beverage without softening. The product is plastic and harmful substance free, making it safe, hygienic, and eco-friendly. After use, it can be composted directly and returned to the environment.
Price: Inquire online
Organic Cotton Flat-Bottom Compact Shopping Bag – Wood Button Closure, Set of 3
The shopping bag is made of organic cotton and wood buttons. It is foldable and portable, while the flat-bottom design prevents items from tipping over in the bag. There is a small zipper pocket for storing small items such as loose change or cards.
Price: 25.00
renouvo sugarcane cup
renouvo sugarcane cup is made of recycled bagasse. The reusable and airtight cup is ideal for holding various beverages such as water, juice, coffee, or tea. Certified by BSI, the product is only responsible for 2.46g of carbon emissions per use in its standard product service life.
Price: Inquire online
DWIGHT – White Hanky, Organic Cotton
DWIGHT – White Hanky, Organic Cotton is made of 100% organic cotton. The handmade product also offers customized embroidery services such as exclusive letters to prevent the product from being lost. Carry one with you to wipe away dirt and grime in the most eco-friendly manner when going out.
Price: 60.00
renouvo sugarcane cutlery
renouvo sugarcane cutlery is oil and heat-resistant. The lightweight product can be reused for eating takeout food, and since it is plastic-free, it can be disposed of and broken down in a compost bin.
Price: Inquire online
8000 KICKS Small Hemp Backpack
8000 KICKS is made of 100% hemp. Apart from accessories such as straps and zippers, the backpack itself does not contain any plastic, and it is also water resistant and strong, capable of holding laptops and daily necessities such as water bottles and umbrellas to cater to individual carrying needs when going out.
Price: 99.00
MATE Organic Cotton Classic Tee
MATE Organic Cotton Classic Tee is made of 100% organic cotton. The natural, soft, and comfortable T-shirt is also plastic-free.
Price: 48
The Everyday Sneaker Gen 3 in Natural Leather for Men
Origo seeks a wide range of natural materials to create shoes. The upper is made of cotton canvas and natural leather, while the sole is made of soy protein and natural rubber, which makes the shoes breathable, comfortable, and flexible as if you are walking on the ground barefoot.
Price: 125
Eight best zero-waste stores online
renouvo
renouvo's vision is to materialize net zero and zero plastic in the future, thus it has turned recycled agricultural waste such as bagasse into low-carbon, compostable, and biodegradable materials to replace plastic. The company's main products include food containers such as straws, tableware, cups, trays, and bags.
EARLYWOOD
Earlywood was founded by a mechanical engineer who continued to apply engineering technology to improve manufacturing methods to make kitchenware more convenient and durable. Besides using North American hardwood as the material, the manufacturer also pays attention to the restoration of tropical forests. Earlywood sells various kitchenware such as spatulas, chopsticks, scrapers, and spoons.
Life Without Plastic
Life Without Plastic hopes to elevate people's awareness of the hazard of plastics and their effects on people's health and the environment while at the same time providing more affordable solutions in an attempt to ultimately create a world without petroleum-based plastics. The company sells a plethora of zero-plastic household products in categories such as oral hygiene, food & drink, bath & body.
Bee's Wrap
E-commerce link
Bee's Wrap draws inspiration from bees to infuse a mixture of beeswax, vegetable oils, and resins into organic cotton to create resilient beeswax food packaging for food-related applications such as lunch bags, produce bags, and food wraps.
Zero Waste Store
Zero Waste Store hopes to become the most trusted sustainable brand and manufacturer among consumers. The company cares about plastic pollution, animal rights, labor, and other aspects of sustainability, and offers zero-waste products for personal hygiene, home, and gardening applications.
EarthHero
EarthHero applies five pillars of sustainable sourcing to evaluate several thousand sustainable products and select partners with environmental awareness, thereby providing consumers with a wide range of sustainable, zero-waste products in categories like gifts, beauty care, clothing, home, pets, outdoor activities, and travel.
Dropps
Dropps is dedicated to providing effective, eco-friendly, and essential cleaning products that are made of plant and mineral-based ingredients. Furthermore, the label minimizes the use of single-use plastic products while retaining its powerful cleaning performance. The e-commerce website offers laundry, dishwashing, and personal hygiene-related products.
etee
etee is committed to developing solutions that reduce plastic pollution and use sustainable resources to manufacture its products. Moreover, it does not conduct animal testing. etee's e-commerce website offers a diverse selection of products such as bath products, food packaging, dental care, hair care, hand sanitizer, and masks for consumers' one-stop shopping convenience
Why do we need to use plastic-free products?
Plastic consumption is constantly increasing with economic development. Now, it is estimated that 460 million tons of plastics are used annually. On a global scale, one million plastic bottles are used per minute, and over five trillion plastic bags are used every year. Approximately 85% of these plastics end up in landfills or are not disposed of properly at all. Since plastics are not biodegradable and the recycling system is utterly inefficient, we must use plastic-free products because reduction from the source is the best solution to the plastic problem, and it can also protect our health.