SUGARCANE CUPS ENVIRONMENTAL BENEFITS
Using Renewable Resources And Reducing Waste Generation
Bagasse is redefined as a renewable material rather than waste. Our Sugarcane Cups prioritize renewable resources while minimizing waste because we use recycled bagasse from juice extraction as our raw material.
Designed To Disappear, The Solution to Plastic Pollution
We successfully lessen plastic pollution by selecting environmentally friendly substitutes that use biobased materials in place of petroleum-based plastics. Our Sugarcane Cups are purposefully made to decompose organically in your home, benefiting the environment.
Reducing Carbon Footprints: 'Objective Planet Zero' is Our Vision
Our objective is to attain "Objective Planet Zero," and we have started the process by figuring out how much carbon our cups contribute to the product and getting certified internationally under ISO 14067. The carbon footprint of each Sugarcane Cup is 1.327 kg.
At each phase of the lifecycle of our product, from procurement of bagasse and production to use and disposal. With the Sugarcane Cups, we, as a research-driven company, are putting the "low-carbon circular economy" concept into practice. We both have the same dream, so every day we inspire change. Our more than 20 years of plant fiber research is displayed in this video.

PP, PLA, BPA, SVHC Free
Factory Audit Certified
PFAS-Free
Home & Industrial Compostable
Product Carbon Footprint Verified
SUGARCANE CUPS TEST & CERTIFICATIONS
Carbon Footprint
Taiwan EPA
SUGARCANE CUPS ORDER INFO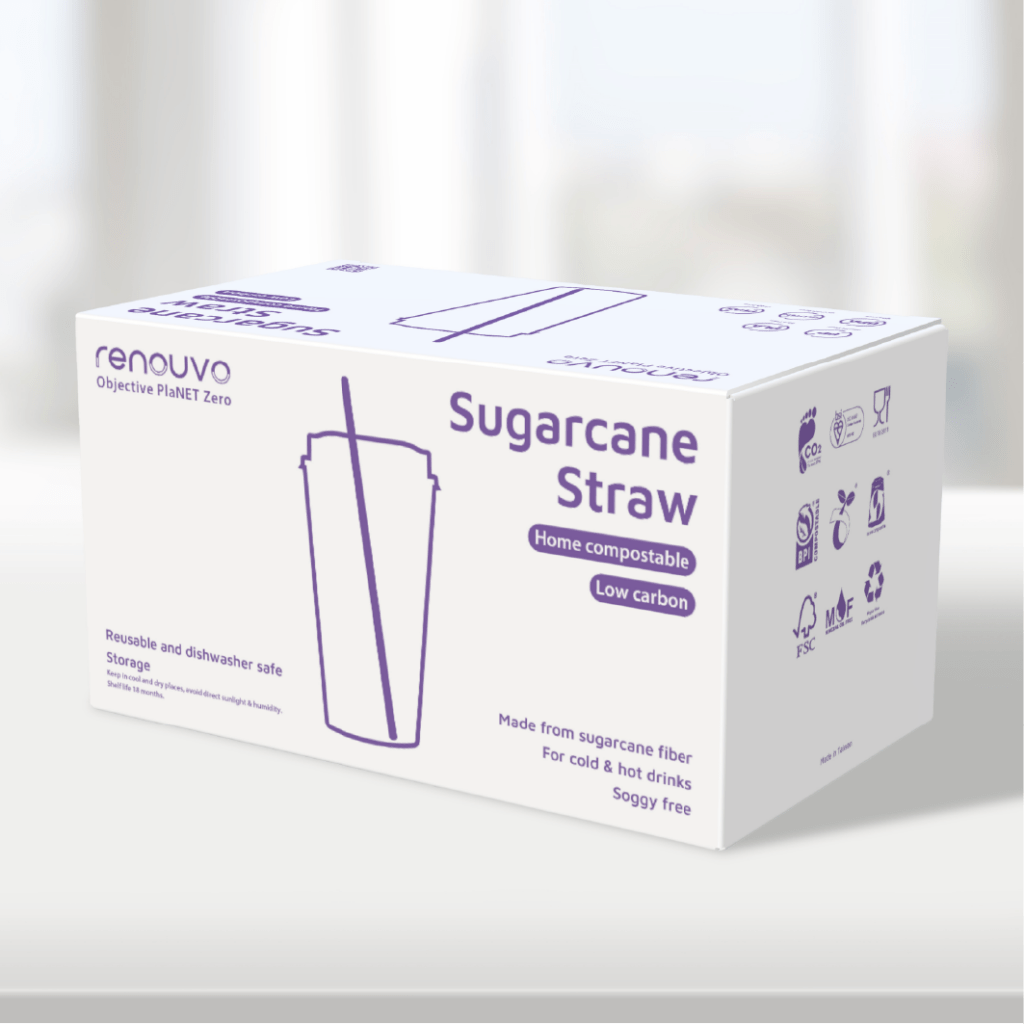 We provide premium, sustainable sugarcane straws with a lead time of 45–60 working days, a minimum order quantity of 3,000 pieces, and sustainable packaging options for ESG-focused businesses, restaurant chains, and wholesalers. We've successfully exported to more than 20 nations, and we're eager to give you top-notch support.
MOQ 3,000 PCS
FSC and MOF Certified Sustainable Packaging
LEAD TIME 45-60 WORKING DAYS
MADE IN TAIWAN
SUGARCANE CUPS SUGGESTED USE
COLD & WARM DRINK FRIENDLY
HOW CAN I INQUIRE ABOUT PRICING AND ORDER SAMPLES?
Please visit our contact page and provide your contact information along with your sample requirements. Our sales team will assist you as soon as possible.
CAN THE SUGARCANE CUPS BE CUSTOMIZED WITH MY BRANDING AND LABEL?
Yes, the Sugarcane Cups can often be customized with your branding and label. Customization options may include printing your company logo, name, or other branding elements on the cups and also on the packaging.
DO YOU SELL TO MANY COUNTRIES?
We primarily engage in B2B trade and have expanded our presence to over 20 countries across five continents. These countries include France, Vietnam, Australia, the Philippines, Japan, Thailand, the United States, Hong Kong, the United Kingdom, Malaysia, Canada, Switzerland, the Netherlands, South Korea, Finland, Italy, New Zealand, Singapore, Sweden, and Germany…
SUGARCANE CUPS RELATED ARTICLE