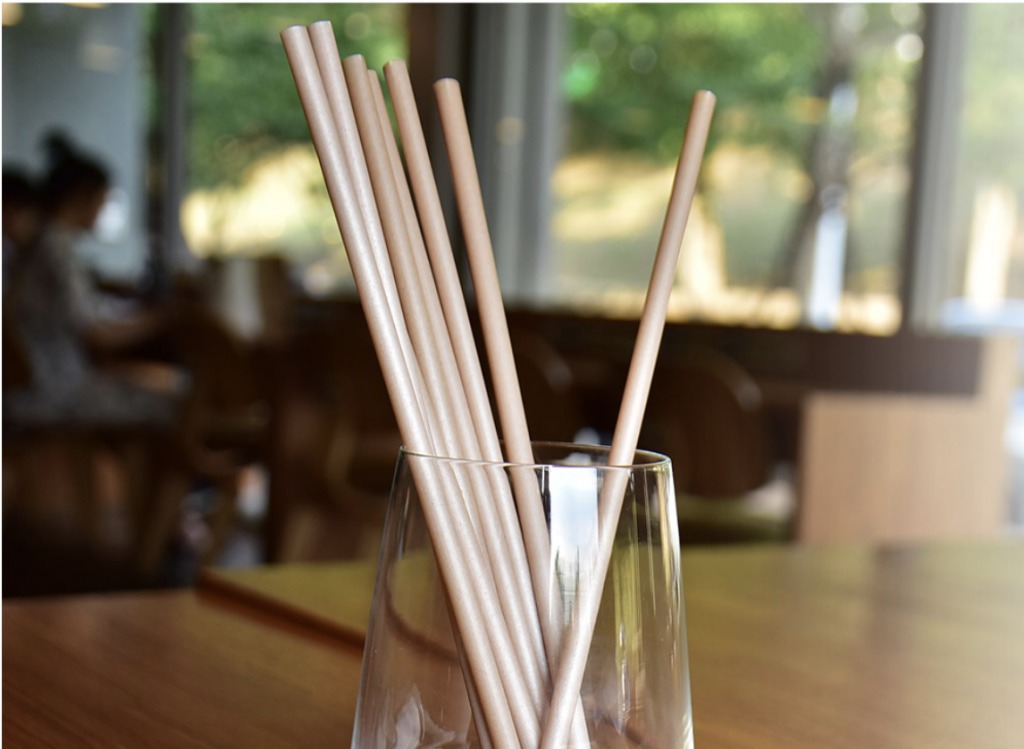 The book "Stretch: Unlock the Power of Less -and Achieve More Than You Ever Imagined" written by Scott Sonenshein, a professor of management at Rice University in the US, whose management theories have been of great help to Fortune Global 500 businesses in the US. Scott has also been involved in Silicon Valley start-ups and served as a strategic advisor to AT&T, the largest telecommunications company in the US. In this book, he mentions the concept of "Stretch", the main core idea of which is to enable start-ups to achieve greater benefits with fewer resources. The development team behind the recently popular sugarcane straws in Taiwan is 100% ZHI (/Plant/) , not only the team development has applied the idea of "Stretch", but also the core value of the world that the whole team hopes to change is trying to promote the use of "limited resources" to create more value for the world. 
100% ZHI (/Plant/), Who Is It?
100% ZHI (/Plant/) is a brand of JuTian Eco-Material Co., Ltd. founded in 2013 with a capital of $9.7 million, three co-founders and a team of 8 people, and located at Central Taiwan Innovation Campus, MOEA in 2015. At present, there are two professional researchers in the team, and there are many new technologies with ITRI, as well as research projects with universities to promote the development of plant fiber technology in Taiwan.
100% ZHI (/Plant/) launched its sugarcane straws in May 2018 and became famous instantly. In the past, Huang's team focused on B2B business cooperation, and the three of them collected $15 million in R&D funds to focus on helping to process Taiwan's agricultural waste, turning the waste of agricultural products into usable and eco-friendly plant fibers, and selling these fibers to businesses that need eco-friendly materials. "Taiwan's sugar industry alone produces 400,000 tons of bagasse each year", and Chien-Chung Huang says that "this waste is a big problem for both businesses and farmers."
The initial business model of JuTian Eco-Material Co., Ltd. was to "purchase" these agricultural wastes from farmers and SMEs and turn these useless residues back into eco-friendly fibers with commercial value. "If we don't take over the waste, the owners will have to pay someone else to dispose of it, and there may be unscrupulous operators who dump the waste indiscriminately," said Chien-Chung Huang.
Interestingly, the current regulations in Taiwan prohibit businesses from reusing agricultural waste, so even if Huang's team helps farmers and businesses solve the problem of agricultural waste in the most eco-friendly way, they even have to "purchase" the waste, "If you purchase it, it's not waste anymore," Huang said with a smile.
By helping farmers to dispose of these agricultural wastes, JuTian Eco-Material Co., Ltd. has accumulated a huge knowledge of plant materials, including sugarcane fiber and bamboo fiber. The creation of maximum value from limited resources is best reflected from the "circular economy" insisted by Chien-Chung Huang. 
Why Choose Sugarcane Fiber For Straws
The reason why sugarcane fiber was initially chosen to make the straws was because the source of bagasse was easier to control,Chien-Chung Huang said. After all, it is a product used for drinking, and the process of using sugarcane is usually simpler, so bagasse is more suitable for making straws. At the same time, it is also easier to develop new products because sugarcane fiber is a field that we are already familiar with.
Huang's initial idea was to replace single-use plastic straws with eco-friendly straws, and the fastest way to do that was undoubtedly from the B-side, which supplies a lot of straws every day. This also meant that the sugarcane straws had to have the possibility of being mass produced, so they began to make contact with straw factories.
"In fact, no one wanted to cooperate with us at the beginning," Huang said. Even though we made the sugarcane fiber particles of the same size as the plastic particles used in regular straw production, no factory was willing to try it at first because of the need to adjust the temperature of the machine and other details, and it took a lot of trying and seeking before we finally found a straw factory willing to cooperate.
With their hard work, they are now expected to produce 100 million sugarcane straws in the fourth quarter, and the energy consumption of the manufactured sugarcane straws is only half of that of the current plastic straws, and no Dioxin will be produced during the burning process. Even though there are no professional recycling manufacturers in Taiwan that can handle sugarcane straws, the burning process can greatly reduce pollution. "In the end, the focus should be on people", said Huang. "We know that sugarcane straws are not a long-term solution, but it is our real goal to start doing this and make people pay attention to environmental issues." 
International Environmental Protection Agreement Brings Up Chien-Chung Huang's Business Spirit, And What He Wants To Promote Is The World's "Environmental Protection Concept"
Chien-Chung Huang's business journey began with the development of the Kyoto Protocol and the Paris Agreement.These two important international environmental contracts directly led to the development of international green chemistry and clean technology, and Huang was inspired to do something for the world's circular economy and contribute to the world with his knowledge of eco-friendly fiber.
In January 2018, the 100% ZHI (/Plant/) team participated in the Maison&Objet exhibition in France, which is an international furniture and home decorations target exhibition, and they brought 100% ZHI (/Plant/)'s PLA cups, which received unanimous praise at the exhibition, the team's plant fiber technology has also successfully attracted the attention of foreign manufacturers. For example, French wineries have a lot of grape pomace after wine extraction and they need professional help to solve this problem. And the team's technology is exactly what they need, so they are working with French wineries and local non-profit organizations to use grape fiber to build desks and chairs for school in the future, so that local elementary school students can understand the importance and extensive use of eco-friendly fiber from their childhood.
This has also opened up 100% ZHI (/Plant/)'s international reputation, and many world-class companies have started to pay attention to this local plant fiber R&D business in Taiwan, and several have reached investment agreements with the 100% ZHI (/Plant/) team.
"In the future, we still hope to develop the technology locally in Taiwan," said Chien-Chung Huang. What they want to do is to export the whole set of agricultural waste recycling solutions to the international market, and set up recycling teams in each country, so that local agricultural waste can be processed, manufactured and sold locally. "As a manufacturer of eco-friendly products, we always have to accomplish our goals in the most eco-friendly way," Huang said. 
Chien-Chung Huang Uses Limited Resources To Create A Product Stretching Idea
The 100% ZHI (/Plant/) team itself can be considered as a "limited resources to create maximum value" practitioner. Their business model itself is to reuse waste to create new value, and in their business concept, they have fully reached this goal.
Why don't we sell such a popular product ourselves and give the right of first sale to others? "We are a R&D team, not a marketing team, so we choose to leave the marketing to the professionals," Chien-Chung Huang said. This kind of "persistence" is rare among new start-up teams. He said he has seen many start-up teams that want to do everything and end up doing nothing well. He believes that 100% ZHI (/Plant/) is very clear that what they want to do is to change the world's concept of environmental protection, so the goal is clear, their strength is research, and instead of marketing what they are not good at, they should invest their resources in what they do best: researching more advanced, environmentally friendly technologies.
Chien-Chung Huang especially recommends the book "Stretch: Unlock the Power of Less -and Achieve More Than You Ever Imagined". He said, "I was very impressed after reading it." Huang believes that perhaps the team is lucky to have few resources, and in a way, this may be the advantage of the start-up team, because with few resources, they will think carefully about how to plan and apply them, while with too many resources, they will not know how to focus, and will easily lose themselves because they can do everything and lose their goals.
Huang advises start-up teams to set goals first and then look back at themselves. 100% ZHI (/Plant/) will always set out what the team wants to achieve and how far they want to go in 10 years, and then goes back to calculate how much resources and investment are needed. This is the reason why sugar cane straws can survive the difficult R&D period in the early stage and create the popular sugarcane straws, and finally welcome the stage of success.