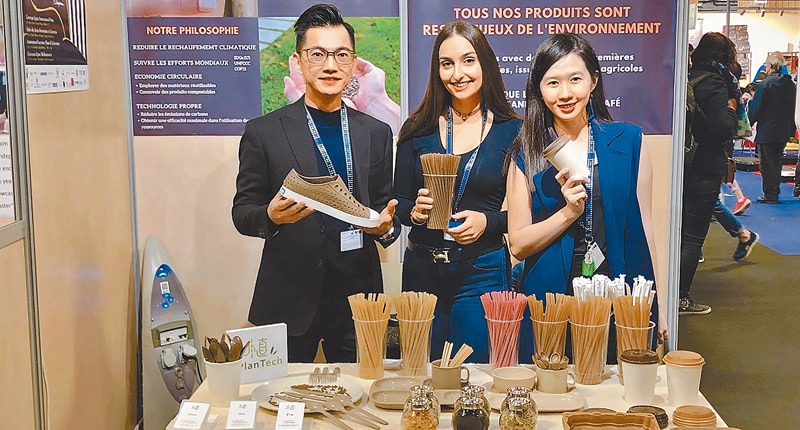 Chien-chung Huang, alumus of Chaoyang University of Technology(left). (Provided by Chaoyang University of Technology)
Grape pomace is used as student desks and chairs;bagasse is used for straws, and coffee grounds is used for dinner plates and cutlery sets… Chien-chung Huang, an alumnus of the department of Applied Chemistry of the Chaoyang University of Technology, uses what he has learned to produce products which from agricultural waste are zero plasticizers with low carbon emission, low energy consumption, and decomposability. He has won numerous awards domestically and abroad, even winning the 2020 Global Views Monthly CSR Corporate Social Responsibility Star of Social Enterprise Potential Award.
Chien-chung Huang studied both his bachelor's and master's degrees in the Department of Applied Chemistry of the Chaoyang University of Technology. The graduation thesis is about the reuse of agricultural waste. In 2013, he started a business developing eco-friendly materials. In 2018, he founded "Ju Tian Cleantech", which is "100% ZHI". The brand launched straws made from bagasse. At that time, hop on the domestic plastic restriction policy bandwagon, the sale in May 2018 really caused a sensation and won the gold medal at the French inventions at Concours Lépine. Now, sugarcane straws have been exported to Hong Kong, Japan, South Korea, Australia, Southeast Asia, and other places, being sold to 26 countries around the world, with sales of 6 million.
Chien-chung Huang's specialty is material research and development, not only bagasse but also how to make new products from pineapple leaves, banana trunks, bamboo, coffee grounds, cork, Chinese medicine residues, etc. He previously worked with a French wine producer to turn grape pomace into classroom chairs and desks. Fifty percent of the raw materials for the desks and chairs are grape pomace, which are also mixed with decomposable plastic.
It is worth mentioning that Chien-chung Huang has worked for around, and now he is planning to return to the Department of Applied Chemistry of the Chaoyang University of Technology for a Ph.D. degree and will set up a collaborative research and development base with the Department of Applied Chemistry. Ju Tian Cleantech founded by Chien-chung Huang is a resident company of Innovation Incubation Center of the Chaoyang University of Technology, and also has an industry-academia cooperation plan with Professor Yeng-Fong Shih of the Department of Applied Chemistry. (Reporter/Jian Lixin)