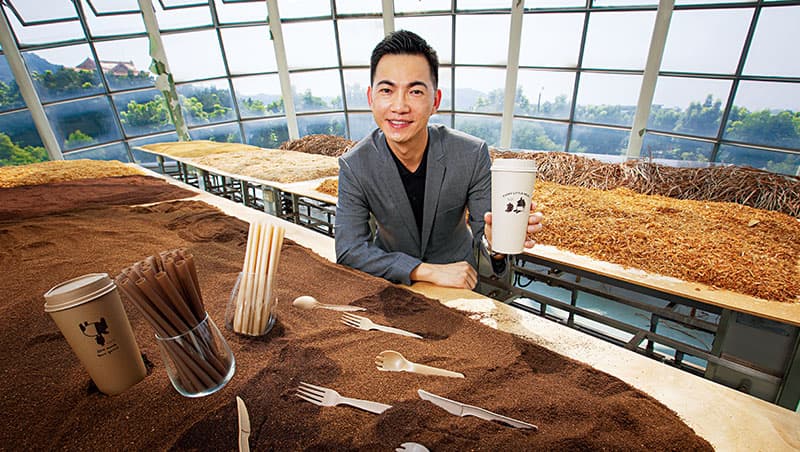 Chien-chung Huang (pictured), the founder of Ju Tian Cleantech Co., Ltd., cooperated with 7-ELEVEN to make an eco-friendly bottle. The raw material comes from bagasse. It is expected that it will gradually become brittle after 9 months of use, and can be decomposed after composting. (Photographer. Han ling Guo)
In Taiwan, where "Don't bother people when they are eating", there are also new business models of food circulation. For example, the recycling bottle designed by illustrator Cherng, which is currently in high demand in convenience stores, is from Ju Tian Cleantech, which has been established for three years.
We came to the Central Taiwan Innovation Campus set up by the Ministry of Economic Affairs in Nantou. In a glasshouse full of sunlight, they were drying various crops by-products they had reclaimed from farmers: bagasse, coffee grounds, lemongrass, etc. A dryer powered by solar energy is stirring the coffee grounds.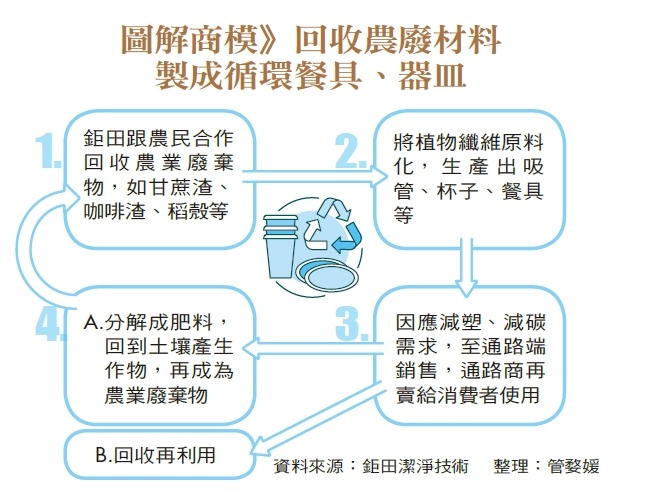 1. Ju Tian cooperates with farmers to recycle agricultural waste, such as bagasse, coffee grounds, rice husks, etc.
2. Convert plant fibers into raw materials to produce straws, cups, tableware, etc.
3. To meet the needs of reducing plastic and carbon emissions, head to the distributors selling. Distributors sell to customers.
4. A. decompose to the fertilizer. Return to the soil to produce crops, and then turn into agricultural waste.
4. B. Recycling and reusing.
Source: Ju Tian Cleantech
Finishing: Wuyuan Guan
Eco-friendly straws are sold in 30 countries, and 400 million pieces. Moreover, they built in connection with farmers and traditional plastic factories to create a circular economy.
Chien-chung Huang was an engineer in a major Electronics company at first. He started his own business halfway and fell into the field of researching and development agricultural waste.
He has a way to make solid products such as cups, straws, and even desks and chairs from the "waste" of various crop by-products.

The sugarcane straws alone have been sold in 30 countries, including France and Southeast Asia since 2019, with sales exceeding 400 million pieces, reducing carbon emissions by 2,300 tons worldwide.

What is more interesting is that not only does he reuse agricultural waste, he creates a business model for reducing carbon and recycling resources. Chien-chung Huang connects farmers, traditional plastic factories (transfer to produce innovative materials), and even introduces solar green electricity and circulating water systems. It's the generation of a new production value chain.

The plastic factory that has cooperated with them for a long time is Hua Hong Technology, a supplier of mobile phone silicone protective shells for international 3C(Computers/Communications/Consumer Electronics) brand manufacturers. "We were originally working in a polluting industry, but I was the successor of the second generation, and I had no choice," said Peifang Hou, general manager of Hua Hong, who has been thinking about how to lead the transformation of this 23-year-old company. After talking to Chien-chung Huang, she decided to invest and cooperate, from an injection production line and a packaging production line, increasing the production capacity by more than double.