If forests are the lungs of the earth, then the oceans are like the kidneys of the earth. Today, the health of this kidney has long been on red, not only filled with plastic straws, plastic bags and other waste that can not be decomposed for hundreds of years, but also flowed into countless numbers of toxin-laden petrochemical detergents and other polluted water, so that the survival of the Earth sends alarm signals.
In recent years, the massive amount of plastic products drifting into the ocean has not only become a deadly killer of sea turtles, seabirds and fish, but plastic waste is second only to climate change as a global disaster. Because plastic products will produce toxins such as dioxin after burning, and after landfill, it is very likely that they will not be destroyed for 10,000 years, the impact and impact on the earth is very serious. According to statistics, the number of straws used for beverages in Taiwan alone is 3 billion a year, and the number of straws used worldwide is 370 billion a year, especially with the growing popularity of hand-shaken beverages in recent years. The huge amount of plastic straws is not only environmentally unfriendly, but also a killer of the natural ecology. 
Promoter Of Recycling Resources With Agricultural Waste
The European Parliament passed a bill in March 2019, which requires EU countries to ban the use of single-use plastic products such as straws, cutlery and cotton swabs from 2021. Among them, JuTian Cleantech, co-founded by Chien-Chung Huang, Bing-Han Tsai and Liang-Chi Yang, launched sugarcane straws under its own brand "100% ZHI (/Plant/)" in May 2018, which not only attracted attention from all walks of life but also won the gold medal and the Jury's Special Award in Concours Lépine Méditerranéen Montpellier in September of the same year, making it a hit back to Taiwan from Paris.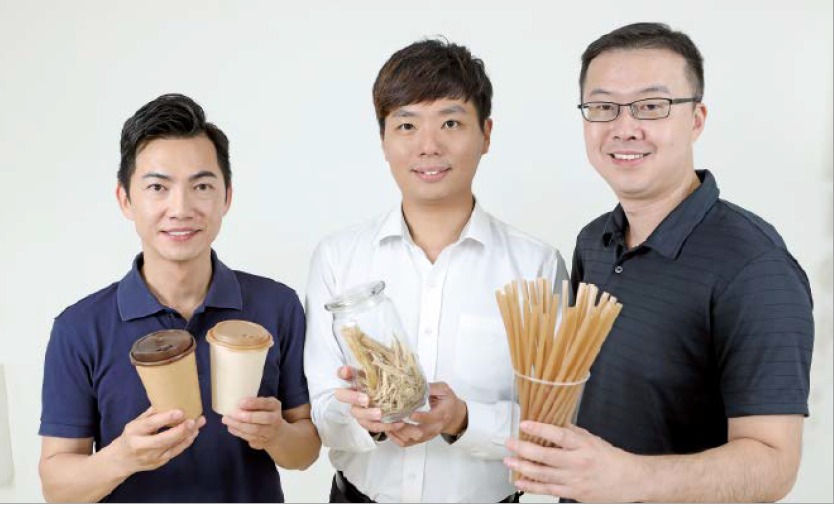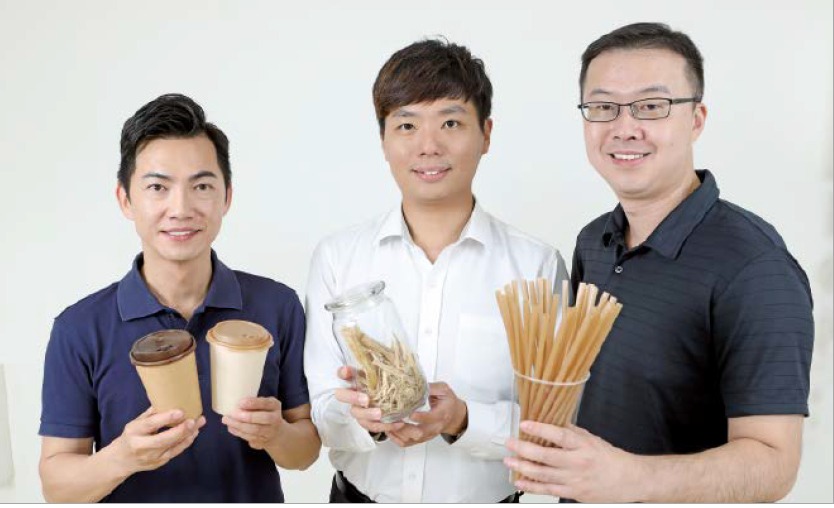 Chien-Chung Huang (from left), Bing-Han Tsai and Liang-Chi Yang, the founders of JuTian Cleantech, are working together on the development and marketing of raw materials for agricultural waste, in an effort to protect the Earth. JuTian Cleantech has been actively participating in overseas exhibitions to get more attention for its corporate philosophy and innovative environmental protection products. 
Chien-Chung Huang pointed out that Taiwan's agriculture and food industry is very well developed, they obtained agricultural waste such as coffee grounds from coffee chains, bagasse, bamboo fiber from Taiwan Sugar and large food factories, and these are also the most easily available plant fiber in the country. He explained that the characteristics of each plant fiber are different, such as coffee is granular and soft when squeezed, bagasse and bamboo fiber are striped and harder, according to the characteristics of each plant fiber for compounding. At present, the products developed by JuTian include knives, forks, plates and lids. "We will start from where the plastic pollution problem is most serious," he stressed.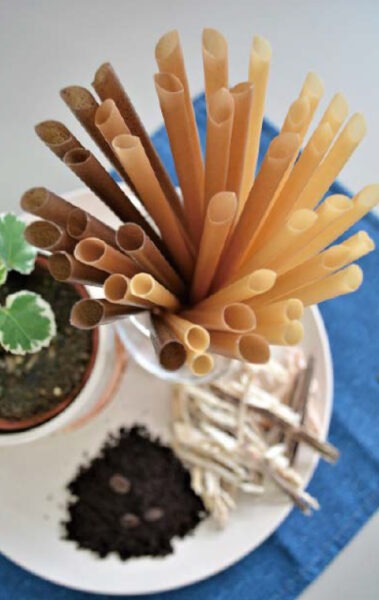 In fact, more than ten years ago, Chien-Chung Huang, who was studying in the Department of Applied Chemistry of CYUT, assisted ITRI in improving the waste problem caused by the use of space packs in mushroom cultivation by farmers, and thus led to the opportunity to develop agricultural waste in the future.
According to Chien-Chung Huang, the core of JuTian Cleantech is to do raw material development of agricultural waste. We recycle renewable natural waste such as bamboo fiber, bagasse, coffee grounds, etc. We keep trying to use various natural waste, including pineapple leaves and banana tree trunks, to make a variety of innovative eco-friendly tableware and eco-friendly furniture, and even make recycled bamboo chopsticks into trash cans.
"By achieving zero waste in the entire industrial cycle, we can reduce the environmental burden and achieve the goal of sustainable development." He pointed out that, with the help of a French non-profit organization, he cooperated with a French wine producer last year (2018) to blend polylactic acid (PLA) from the pomace production process of red wine to produce tables and chairs; in addition, in July this year, the company also obtained the raw material of red wine pomace from a wine producer in Taiwan, which will be used to make products related to environmental protection.
Committed To Reducing Pollution And Moving Toward 100% Eco-Friendly Products.
In the face of the debate over PLA, Chien-Chung Huang explained that PLA has been commonly used in the US for a long time, plus there is a recycling system and a large industrial composting environment for PLA, so it has been prevalent in the US for quite some time. However, the U.S., which has always followed in the footsteps of Europe, has now banned the use of PLA by legislation in several states, "the second and third generation recipes are in progress, and we will soon launch the third generation material, which can comply with European environmental regulations."
Under the plastic restriction policy in Taiwan and the EU, straws are now an issue of concern, and JuTian Cleantech has invested in eco-friendly straws, with an annual production capacity of 100 million units. In addition to the innovative R&D of eco-friendly straws, we have obtained Taiwan's Green Mark and Germany's DIN CERTCO certification, and we will also strengthen our marketing efforts," said Chien-Chung Huang. In addition, we will not set up our own factories, but adopt the concept of sharing economy to help straw manufacturers to improve their production capacity, and at this stage, we have cooperated with more than ten OEMs.
This year, JuTian's coffee grounds straw and lid won the gold medal in Concours Lépine International Paris. In addition to assisting French businesses to produce eco-friendly straws locally, JuTian will expand into France in the third quarter of this year to obtain more resources and move towards 100% eco-friendly products that can decompose naturally at room temperature or in the ocean," said Chien-Chung Huang. "Although it is a difficult task, the R&D team will continue to work hard and focus on the development of disposable products to reduce the pollution of the Earth."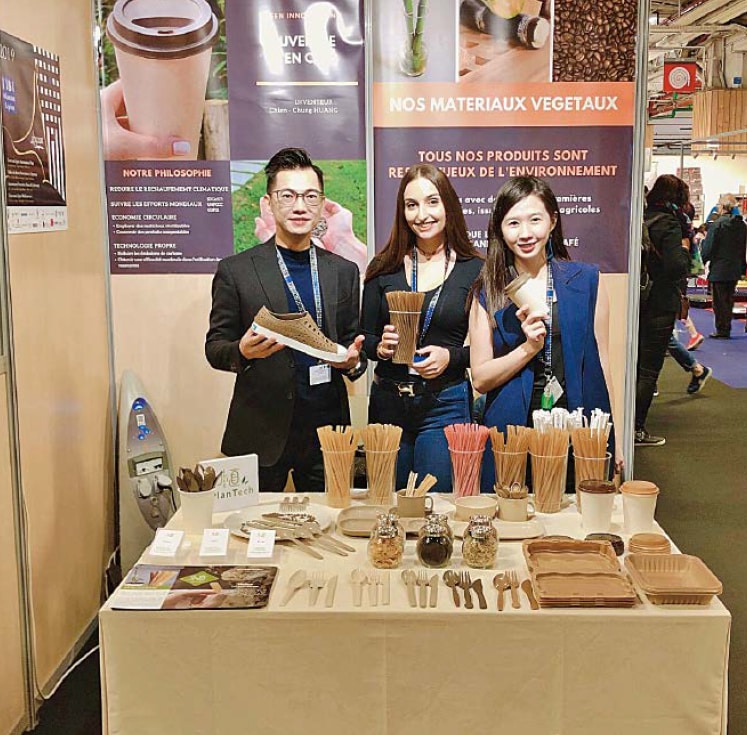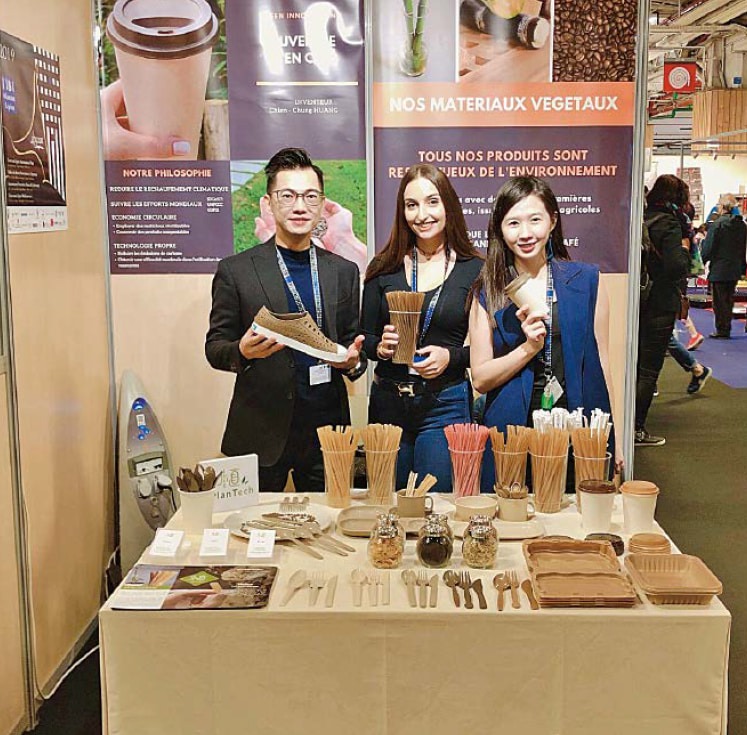 Ju Tian Cleantech is actively participating in overseas exhibitions so that our corporate philosophy and innovative environmental protection products can gain more attention. 
Source: July 2019 Trade Insight Magazine P.55-56