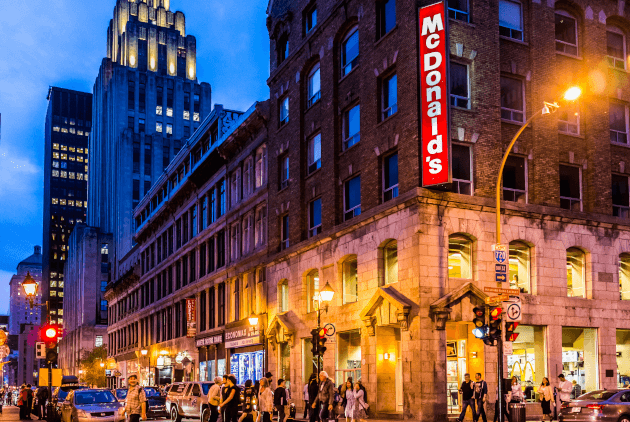 By selling only organic coffee, using sugarcane straws, carafe, wooden tableware, Eco Chit receipts or sending receipts via email, etc., Grounds for Coffee Vancouver has built its business model based on sustainable development. Because of the demand from consumers, companies can come up with a steady stream of "green initiatives" that demonstrate the power of responsible consumption.
According to the Coffee Association of Canada, coffee is the favorite beverage of Canadians, even slightly more popular than water. However, when fast food restaurants or coffee shops sell coffee to customers, especially for take-out, they often have to use paper cups, paper bags, paper boxes and napkins. These paper products are used in large quantities, which not only create a lot of waste, but also consume a lot of resources. 
McDonald's Uses Paper From Responsibly Managed Forests But Doesn't Let Consumers Bring Their Own Cups To Buy Coffee
Canada's McDonald's is finally implementing a new measure at its locations in the country, starting at the end of February 2020, allowing customers to bring their own eco-cups to buy coffee. The policy came about as a result of many consumer protests and a huge backlash that forced McDonald's to allow customers to bring their own cups to buy coffee.
One Canadian, Brenya Green, wanted to buy coffee in her usual cup and was denied by McDonald's, so she went online and made the process public. In addition to Brenya, many consumers have long told McDonald's that they want to bring their own eco-cups to buy coffee. However, only two of McDonald's Green Concept Restaurants in Canada are experimenting with allowing customers to bring their own eco-cups to buy coffee, while the rest of the chain is left to the discretion of the person in charge.
Although McDonald's has long been concerned about forest sustainability issues, all of its paper packaging is 100% certified by the Forest Stewardship Council, and all paper products used by McDonald's are sourced from "responsibly managed forests". That is, forests that retain biodiversity and regenerate trees, and respect the rights of local indigenous peoples while cutting down trees. In addition, McDonald's uses coffee beans certified by the Rainforest Alliance.
However, McDonald's does not allow consumers to buy coffee with their own cups? 
A Complete Set Of Green Initiatives From Grounds For Coffee, Tumbler, Sugarcane Straws, And Wooden Tableware
Currently, McDonald's Canada has paper coffee cups with peel-off stickers and collector cards, and seven stickers can be redeemed for a free cup of coffee. But there is no discount for buying coffee in your own cup at Green Concept restaurants. However, for the sake of customer rights, to avoid customer complaints will still give customers a paper cup. But in the end, will this paper cup be discarded by customers and become unused paper cup waste?
McDonald's Canada has not yet fully promoted or accepted the use of eco-cups for coffee purchases, mainly due to concerns about cross-contamination that may cause hygiene problems. In fact, many coffee shops in Canada have been accepting reusable cups for years, prompting customers to question McDonald's current policy and practices.
Tim Hortons (a Canadian coffee shop chain) and Starbucks have long implemented cups on the go, encouraging consumers to use their own cups and offering discounts. Most local coffee shops are also accepting the bring-your-own-cup option.
Vancouver's famous Grounds for Coffee not only sells the world's best cinnamon rolls, it's also a very "green" coffee shop. Since 1990, the company has been selling only organic coffee and using only the Swiss Water Process to process decaffeinated beans. Other green initiatives include switching to sugarcane straws, carafe, wooden tableware, Eco Chit receipt rolls or emailing receipts, and using unbleached containers and napkins. In addition, encourage bringing your own containers and donating any unsold food to local women's shelters and community organizations. 
Easy To Buy Reusable But Not Reusable Is Not Eco-Friendly
It is undeniable that customers who bring their own eco-cups will cause some trouble to the store and the store staff. For example, if you don't know the capacity of your cup and you order the wrong size, the mouth size of the cup may not allow for ice cubes, etc. Therefore, some stores will suggest consumers to buy the store's special coffee cups/containers. However, consumers should think more deeply about the fact that if they buy reusable coffee cups or containers but do not reuse them, it is actually not eco-friendly.
For the environment to be sustainable, businesses and consumers need to work together. Reusing the same item more than once is the simplest way to think about sustainability.
Resource: https://csr.cw.com.tw/article/41340#